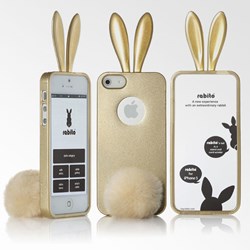 Best iPhone 4 Cases
Santa Ana, California (PRWEB) August 29, 2013
Lollimobile.com, the premiere source for feminine mobile accessories with the widest selection of best iPhone cases and top-rated customer service, announces a store-wide price reduction on nearly all iPhone 4 cases of up to 50% off with nearly a hundred items as low as only $2.99 and as low as $2.39 when you purchase 4 or more cases.
This price drop includes Lollimobile's best-selling Rabito Bling Bling bunny ears iPhone 4 Cases available in a variety of colors with a matching fluffy suction tail piece which is now reduced to only $12.99 from a MSRP of $29.99, and the best-selling Hello Kitty Bow Cam Series iPhone 4 Case, originally priced at $19.99, is now only $12.99. When looking for a super cute iPhone 4 or iPhone 4S case, this is the best iPhone case you will find. Both cases are soft yet durable and a perfect fit for any Apple iPhone 4 or iPhone 4S.
In addition to these best-selling cases, even recently released iPhone 4 cases have been reduced including the Molang series of iPhone 4 cases which feature the cute and lovable Korean cartoon character Molang, dubbed to be the next Hello Kitty and the Lollimobile Kirigami Hearts series of iPhone 4 cases. These durable hard cases have been reduced from $17.99 to an astonishing $11.99 and come in a variety of colors and cute designs to choose from.
Many of Lollimobile's iPhone 4 cases have been reduced down to under $3 and as low as $2.31 when purchasing 4 or more products in a single order including the Koko Cat Case, Hello Kitty Bow Bumper, Bubblepack series and the best-selling and versatile multi-function Japanese Coin case from urban prefer, the recipient of numerous design awards and accolades.
When looking for the best iPhone cases or the perfect gift for a loved one, Lollimobile is the best and only place to get the largest variety of cute iPhone 4 cases on the market and now at the best prices. All of Lollimobile's iPhone 4 case inventory is limited and supplies are running out, so get them while they are still available.
About Lollimobile.com
Lollimobile.com, founded in July 2012, is the ultimate online resource for cute mobile accessories. The website lollimobile.com already carries over 200 products, from Apple iPhone 4 and iPhone 5 cases to Samsung Galaxy S3 cases, Samsung Galaxy Note 2 and soon to include the all new Samsung Galaxy S4 cases. With some of the most competitive prices on the Internet today, Lollimobile.com keeps costs low for consumers while providing an easy, service-oriented shopping experience. The idea is to not only bring the largest selection from all around the world but also to offer the best customer service through their "Love it guarantee" which offers not only free shipping but also offers free, no-questions-asked returns. Visit http://www.lollimobile.com to learn more.