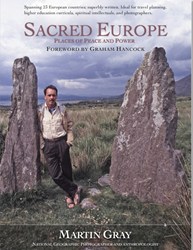 Sedona, AZ (PRWEB) August 14, 2013
SacredSites.com, the most visited website of its kind in the world, with over 35 million visitors since its inception, has launched the first in its series of Sacred Earth interactive iBooks — Sacred Europe — by Martin Gray, the world's the leading authority on sacred sites.
The most comprehensive book of its kind ever published, it is also the first fully interactive iBook, developed specifically for the iPad, although a non-interactive eBook version is also available for purchase at the Sacred Sites website.
Gray, who has spent 30 years visiting 140 countries photographing and writing about thousands of sacred sites, was looking to do more than just chronicle his life's work. "I wanted to provide a virtual experience while at the same time, equipping educators with more interactive and fun educational tools for the classroom," he says.
Priced to sell.
"I hope my subscribers, and the over 35 million people who have visited my Sacred Sites website understand that I'm not in this for the money. I merely want to make enough sales to publish Sacred Asia, Americas, Middle East and Africa. If I can do that, I will have completed what I was put on this planet to do," Gray concludes.
Sacred sites covered in Sacred Europe include:

Church of the Virgin Mary, Geghard Monastery — Armenia
Etchmiadzin Cathedral — Armenia
Garni Temple — Armenia
Khor Virap Monastery — Armenia
Mt. Ararat — Armenia
Pilgrimage Church of Mariahilf, Hallstatt — Austria
Medjugorje — Bosnia
Rila Monastery — Bulgaria
Bornholm Island — Denmark
Abbey of Conques — France
Basilica of Our Lady of Lourdes — France
Cathedral of Notre Dame, Le Puy — France
Church of Three Saints, Saintes de la Mer — France
Mont-Saint-Michel — France
Mt. Blanc — France
Rocamadour — France
Saint-Guilhem-le-Desert — France
Vezelay — France
Gelati — Georgia
Jvari (Dzhvari) — Georgia
Uplistsikhe — Georgia
Externsteine Rocks — Germany
Church of the Megalohari, Tinos — Greece
Delphi — Greece
Monasteries of Mt. Athos — Greece
Monastery of Rousanou, Meteora — Greece
Monastery of St. John, Patmos — Greece
Mt. Olympus — Greece
Parthenon, Athens — Greece
Blarney Stone — Ireland
Carrowkeel — Ireland
Carrowmore — Ireland
Holy Wells — Ireland
Loughcrew — Ireland
Mt. Croagh Patrick — Ireland
New Grange, Knowth Dowth — Ireland
Skellig Michael — Ireland
The Round Towers — Ireland
Franciscan Holy Places, Assisi — Italy
Sanctuary of Monte Gargano — Italy
Temple of Hera, Paestum — Italy
The Holy House of Loreto — Italy
Basilica of Our Lady of Aglona — Latvia
Hill of Crosses — Lithuania
Neolithic Temples — Malta
Ostrog Monastery — Montenegro
Nidaros Cathedral, Trondheim — Norway
Marian Sanctuary of Jasna Gora, Czestochowa — Poland
Basilica of Our Lady of Fatima — Portugal
Cathedral of St. Sophia, Novgorod — Russia
Monastery of Optina Pustyn — Russia
Monastery of the Transfiguration, Valaam — Russia
Monastery of Trinity-St. Sergius, Sergiev Posad — Russia
Black Virgin of Guadalupe — Spain
Cathedral of Our Lady of the Pillar, Zaragoza — Spain
Santiago de Compostela — Spain
Walled City of Avila — Spain
The Benedictine Einsieldeln Abbey — Switzerland
Kiev Perchersk Lavra — Ukraine
Pochayiv Lavra — Ukraine
Svyatogorsk Monastery — Ukraine
Troyitsko-Illynsky Monastery — Ukraine
Avebury Stone Ring — England, United Kingdom
Bath — England, United Kingdom
Callanish Stone Ring — Scotland, United Kingdom
Canterbury — England, United Kingdom
Durham and York — England, United Kingdom
Men-an-Tol Stone, Cornwall — England, United Kingdom
St. Michael's Mount, Cornwall — England, United Kingdom
St. Michael's Tower, Glastonbury — England, United Kingdom
Stonehenge — England, United Kingdom
Stones of Stenness — Scotland, United Kingdom
The Cerne Abbas Giant — England, United Kingdom
For more information on Martin Gray, please visit his biography pages.