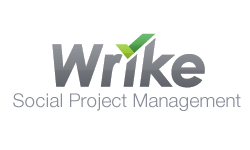 This is a company that has a great product, knows it, and wants to increase the lead they've got over the competition," said Scott Struber, VP of Operations at Yamanair Creative and a Wrike customer.
San Jose, CA (PRWEB) August 27, 2013
Wrike, a leading provider of project and task management software, today announced the launch of "Graphite," its signature application's latest release with a new flat design of the user interface and innovative task scheduling, time management and project collaboration features.
"What was already an intuitive workspace – that has dramatically improved the efficiency with which we conduct our business – has gotten even better. The overall look is easy on the eyes, but not just another pretty face. The improvements make it easier to get things done with even greater speed. I have no idea how we would function day-to-day without Wrike. This is a company that has a great product, knows it, and wants to increase the lead they've got over the competition," said Scott Struber, VP of Operations at Yamanair Creative and a Wrike customer.
Considered the company's most innovative 2013 release to date, Wrike Graphite with its neat look and powerful new capabilities takes the experience and efficiency of online project management to a new level.
"Simple, clean, and lucid – these were the key topics of our design discussions while we were working our magic on Wrike Graphite," said Andrew Filev, Wrike's founder and CEO. "We wanted to find the perfect balance between our users' habits and a new level of efficiency in day-to-day work, which we tried to implement in every element of the new UI."
"This is more than just our biggest release this year," Filev continued. "Graphite is a major step toward rethinking the whole experience of online project management. This is important not only for Wrike users, but for knowledge workers in general as well as everyone who gets things done online."
The first thing that's immediately noticed in Wrike Graphite is a complete redesign of the workspace. The new, flat design highlights key content via a contrast palette and increased use of white space and icons. One of the key components of the redesign is a comprehensive and well-structured task view. Wrike Graphite's new and enhanced features are also noteworthy. Its timer "broadcasts" individual users' current work in real-time, thereby automatically updating fellow team members on project's progress. This capability enables participants to virtually simulate "walking around" an office or workspace to collaborate or check up on fellow workers' progress.
"With one click, team members can share information about their progress, sort of a 'push-pull' way of informing peers without bombarding them with needless information," Filev said. "It's as if workers walk by colleagues' desks to assess progress and help out, if necessary. So, it's especially transformative for the online work experience, if team members are working from different locations."
In the same line of making project management more approachable and simple, Wrike also reshaped its project scheduling. Now, users can set task dependencies right from the descriptions and preview this chain on a timeline.
Other changes and enhancements in Wrike's social project management Graphite version revolve around:

Project infographics: Details and statistics of projects are highlighted in easily viewed, neat charts.
Activity stream-like email notifications: Users receive more informative updates within fewer emails, thanks to Wrike's Activity stream patterns for a more interactive and collaborate experience.
HTML5 desktop popup notifications: With Wrike tab open in a browser, a small window pops up in the corner of the computer screen to immediately inform colleagues about new tasks or comments.
For a free trial of Wrike Graphite, visit http://www.wrike.com.
About Wrike
Wrike is the leading online project collaboration software. It provides teams with a unique platform for collaborating on multiple projects in one workspace in real time. Wrike's collaboration features give a significant productivity gain to thousands of companies all over the globe, including Adobe, EMC and Ecco. Wrike, Inc. is a privately held corporation located in California.
Wrike is a trademark of Wrike, Inc. All other product names are trademarks or registered trademarks of their respective holders.