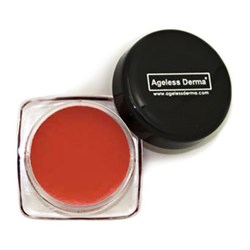 Rachel Goodyear, the Esthetician at DrSkinSpa.com, says, "Ageless Derma Lip Gloss never feels greasy or heavy on the lips, though the coverage is flawless.
Anaheim, California (PRWEB) August 01, 2013
DrSkinSpa.com is a top-selling retail web site. This successful company sells quality anti aging mineral cosmetic makeup, skin and anti wrinkle products on their e-commerce web site. DrSkinSpa.com is able to offer healthy, anti aging skin care solutions that are formulated through nature. The skin care and wrinkle products sold through this web store have been clinically tested to be safe and effective for a majority of mature skin and hair care needs. They carry a varied stock composed of the most-wanted natural anti aging wrinkle products such as creams, cosmetics, and other types of skin care solutions. The latest addition to the DrSkinSpa.com family of products is Ageless Derma Lip Gloss.
Ageless Derma Lip Gloss is chock full of moisturizing ingredients to make lips more moisturized, soft, and ultimately, more kissable and sexy. This lip gloss contains some of the top ingredients found in wrinkle products: vitamins, oils, and botanicals, that are all natural and work in combination to provide a solution to lip dehydration and wrinkling due to aging and sun exposure.
The vitamins contained within the Ageless Derma Lip Gloss include the vitamins A and E. Vitamin A is found in many wrinkle products. It works to exfoliate skin and regenerate cell renewal, ultimately plumping lips and relieving them of wrinkles. The Vitamin E in Ageless Derma Lip Gloss is a natural healing substance. It works to moisturize and heal skin toughened and lined due to UV exposure. The vitamins in this lip product will make lips smoother and more attractive, as this gloss works as many wrinkle products do, from inside the body to make significant outward improvements in appearance.
This latest line of wrinkle products from Ageless Derma contains a variety of natural oils that hydrate and protect the lips, making them soft and moisturized. The aloe vera adds an extra layer of healing protection while the green tea extract makes lips young again. A touch of vibrant peppermint oil further revitalizes the lips.
Rachel Goodyear, the Esthetician at DrSkinSpa.com, says, "Ageless Derma Lip Gloss never feels greasy or heavy on the lips, though the coverage is flawless. There are not many wrinkle products designed just for the lips, but this one is, giving your skin benefits that your lips deserve while making your face light up with 12 exciting shade varieties."
Developed by a committed group of doctors, chemists, researchers and estheticians with over 30 years of experience, Ageless Derma combines cutting-edge research with all-natural ingredients to provide the best in anti-aging skin care.
Ageless Derma was inspired by nature. Its wrinkle products contain many botanical ingredients, enhanced by the knowledge and innovation of its expert researchers. At the heart of this anti-aging range are high concentration stem cells, peptides and antioxidants that have been drawn from nature to provide flawless skin without resorting to invasive or painful delivery techniques.
The Ageless Derma line contains 3 core products:
Ageless Derma Stem Cell and Peptide Anti-Wrinkle Cream
Ageless Derma Retinol and Vitamin K Eye Cream
Ageless Derma has also developed an all-natural line of anti-aging mineral makeup. Free from all oils and parabens, this soft makeup provides natural protection to skin, keeping it looking and feeling great, day or night.