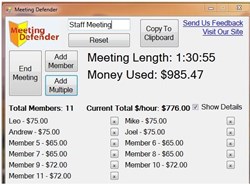 Lafayette Hill, PA (PRWEB) August 07, 2013
New Meeting Defender software from Springfield Resources lets managers determine the exact cost of meetings, often revealing surprising truths that can shape the profits of their companies.
Users can enter the names of meeting participants along with how much each participant will be paid for their time spent in a meeting. A running clock and cost total is displayed so managers know if a meeting is running over budget and even how much future meetings will cost the company.
Springfield Resources president Joel Levitt is a longtime consultant who has spent years of his life in meetings. "Some meetings go on and on and not much gets accomplished. Add up what each participant is being paid and how long the meeting lasts and you often have a surprisingly substantial expenditure for the company," Levitt said.
Firms who use Meeting Defender see an immediate benefit. Managers who are presented with the true costs of meetings often start looking for ways to make meetings shorter and more efficient.
Levitt frequently gives the example of a stand-up meeting between department heads that lasts only a few minutes. Participants get right to the point, coordinate their activities, then everyone goes about their day better informed and in a more cooperative spirit.
"On the other hand, you see meetings where everyone meets in the conference room, the conversation meanders, participants come and go, others check their messages and work on correspondence, and not a whole lot gets done. Those kinds of meetings can cost a company hundreds of dollars for debatable benefit," Levitt said.
Meeting participants can be entered in the software as they arrive. It can also be noted when a participant leaves the meeting. Meeting Defender displays a a running time and cost total.
It is often only when managers use Meeting Defender that a high level of cost awareness enters the meeting process. "These days virtually all companies are looking for ways to be more efficient. Meeting defender lets managers design better meetings and save a lot of money in the process," Levitt said.
Meeting Defender runs on desktop and notebook PCs. Get more information, see screen shots, and download free trial of Meeting Defender at http://www.MeetingDefender.com/.
Springfield Resources was founded in 1980. It started as a technical process controls company and automated oil terminals and rail road yards. By the 1990s the firm was concentrating its efforts in management consulting and corporate training.
In addition to customized training, over 15000 professionals from 3000 organizations in 21 countries have enjoyed the intensive nature of our training in 500+ public sessions. 98% of attendees rated our programs very good or excellent!
Initially all training and consulting was in technical areas including maintenance and reliability. Gradually training started to include leadership, communications, meetings, lean processes, scheduling and planning.
This meeting training program is an outgrowth of 10 years of training people how to improve their meetings in mission critical settings.