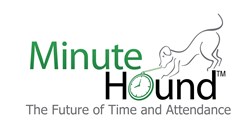 With this technology, the many problems that commonly plague traditional time card systems are eliminated
New York, NY (PRWEB) August 15, 2013
MinuteHound, a leading attendance and time technology company, recently announced that they have released a high-tech biometric hand scanning recognition system that will help businesses save money. This is because MinuteHound uses a patented technology that was designed for a single purpose. It can provide companies with a cost effective way of accurately, simply and flawlessly tracking their employees' attendance and time.
To achieve this, MinuteHound uses a technology that was originally developed for the protection of highly sensitive military facilities. This is commonly known as Biometric Fingerprint Technology. The patented encryption process also helps eliminate privacy concerns as MinuteHound's technology does not store any kind of fingerprint images.
With this technology, the many problems that commonly plague traditional time card systems are eliminated. At the same time, it helps management adjust their budgets and plans accurately. To do this, MinuteHound biometric system utilizes a sophisticated reporting system.
Cost-Effective Protection
MinuteHound is also a great way to protect companies from fraud. It alerts managers if their employees miss their assigned shift, show up late or try to leave early. This effectively prevents time theft.
Time theft is considered to be a very common problem among companies in the United States. According to the American Payroll Association, nearly $148 billion is lost every year due to poor time systems. Additionally, five to ten percent of many payroll costs can be traced to time theft.
With MinuteHound, business owners will no longer have to worry or waste money. This is because the system will help reduce inefficiencies. It will also help save money for businesses that have a large number of employees. This sophisticated technology also protects companies from suspicious lawsuits by providing solid proof of attendance. Additionally, company managers can adjust their staffing needs instantly by monitoring personnel workloads.
User-Friendly
Although it is a very sophisticated technology, MinuteHound is also easy to use. It also does not require a dedicated computer or terminal. The biometric scanner is connected to a conventional computer equipped with a USB port. It also takes only a few minutes to set up.
This unique flexibility means that it can be used along with a point-of-sale terminal, standard computer or backend inventory tracking PC. It also helps eliminate additional labor expenses. This is especially true when it comes time reconciling payroll timecards. The laborious task is eliminated as there are no company timecards to calculate. Instead, managers can experience the convenience of accurate time reports that are delivered to them quickly.
About MinuteHound
MinuteHound is a company that specializes in providing biometric technology for companies. Their attendance and time system is the only one available that utilizes a single terminal. Many companies in the U.S. and around the world consider their technology to be the most cost effective solution.
MinuteHound Contact Information
Website: http://www.MinuteHound.com
Email: info(at)MinuteHound(dot)com
Phone: (800) 351-7237