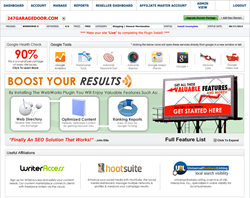 Within two weeks we were on the 1st. page Great product. It's well worth the money. And it saves a lot of money in SEO specialist. - 360webdesign
San Clemente Ca. (PRWEB) August 03, 2013
Blackwood Productions, a leading search engine marketing agency in the United States, announced today that it has maintained an exceptional 91% success rate through the first half of 2013. The company is known for its WebWorks search engine optimization (SEO) packages, which many industry experts describe as revolutionary.
"We continue to work hard to ensure success for all the websites we manage. We are also committed to delivering results fast. Clients typically see significant improvements in their rankings within a month of implementing the company's WebWorks SEO packages," claims Robert Bibb, CEO for Blackwood Productions.
WebWorks is a semi-automatic technology that eliminates the time-consuming tasks associated with SEO. It automates routine operations but leaves functions that are more sensitive in the hands of human SEO experts to ensure quality and focused service. The end result is a groundbreaking tool that allows accelerated rank improvement and zero maintenance on the part of the client.
"All you need to do is sign up and leave the rest to us. Because you no longer need to worry about improving your web presence and getting customers from the internet, you can work on other important aspects of your business. Our clients appreciate the time and freedom that our system rewards them," explains Bibb.
To ensure high levels of success, the company provides a pre-diagnostic service to identify optimal niche keywords that will bring the client more visitors, increase conversions, and ultimately yield a higher return of investment. All clients also receive personalized attention from a dedicated account representative, who helps determine what package best suits the goal and the requirements.
"This level of stringency has helped our team reach and maintain a 91% success rate during the 10 years that we've been in the business. This is unprecedented in the SEO industry. Our goal is to sustain this level of excellence," says Bibb.
SEO experts agree that the most impressive factor of the WebWorks SEO platform is its efficiency, enabling website owners to sign up online and almost immediately enjoy improved rankings for niche keywords. Improvements in ranking manifest almost immediately on Google, then on Yahoo and Bing after a few weeks. Long-term and long-lasting rank improvements are typically achieved after six months.
The no-risk WebWorks packages come with guarantees and are available at a monthly flat rate, so clients never get shocked by surprise fees. "If you go to another search engine marketing agency, you may be billed for extra services. They may require you to pay more next month because they supposedly did additional work for your website. That is not the case with WebWorks. You simply pay a monthly flat rate and we continue to do everything necessary to ensure that you reach the top ranks and that you stay there. We charge absolutely no hidden fees. This enables business owners to properly allocate a predictable budget for their SEO requirements," Bibb explains.
Unlike other search engine marketing agencies that lock clients into a long-term contract, Blackwood Productions promises pay-as-you-go convenience, with no long-term contracts.
"Clients can leave anytime they are not satisfied," says Bibb. "But because our system is transparent and our results are great, the quit rate is very low. We currently manage over 38,000 websites, and a majority of our clients have been with us for years."