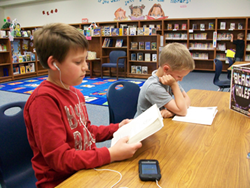 We can ensure that students with print disabilities are getting access to the same books their peers are reading, which helps them feel more confident.
Princeton, NJ (PRWEB) August 01, 2013
Learning Ally, a nonprofit providing accessible audiobooks and educational solutions to over 7,000 schools throughout the country, as well as to thousands of students and adult learners with print disabilities like dyslexia and visual impairment, has recently developed a web-based tool for educators called Teacher Ally.
The Teacher Ally tool facilitates the use of assistive technology in the classroom by allowing educators to easily access and assign audiobooks from the downloadable library of over 80,000 textbook and popular literature titles that Learning Ally provides. Teachers can manage the distribution of required reading content among their students, track students' reading progress, share reports with parents and fellow educators, and make recommendations for additional interventions from any computer with internet access. Teacher Ally is expected to solve the problem of audiobooks being underutilized in some schools where teachers lack a system for distribution.
Launched this past year, Teacher Ally has been adopted into many schools that use Learning Ally audiobooks, receiving positive responses from educators who have employed it in their classrooms along with the Learning Ally Audio app, which plays audiobook content on iOS devices. "Using Teacher Ally with the Learning Ally Audio app, we can even share with the students: 'Wow, you've read 800 pages this year!' and that is a great thing to see and reinforce positively for the kids," says Dyslexia Therapist Melinda Walters of Frenship Independent School District in Lubbock, Texas. "It saves our teachers a tremendous amount of time with this easier process of adding student accounts and downloading books. We can ensure the students are getting access to the same books their peers are reading, which helps them feel more confident."
"When we learned about this easy way for students to access audiobooks, we worked really hard to market it to students and organized an early training program for them," says Jana Garnett, Director of Student Disability Services at Santa Barbara City College, which has 150 students approved to use audiobooks. One college student there commented, "I use Learning Ally on my iPhone and on the computer. I like how listening reinforces the information for me and when I follow along in the book, I get it from two senses – listening to and seeing each word."
"We're consistently seeing improved performance among students who use audiobooks," says Paul Edelblut, Learning Ally VP of Educational Solutions. "Research studies demonstrating improved scores in reading and math on statewide exams have shown that audiobooks are an effective accommodation for students with print disabilities. The Teacher Ally tool provides an extra level of support by making it easier for teachers to get students the reading materials they need, and to make sure students are using their audiobook accommodations as effectively as possible. Being able to see quantifiable progress can motivate kids with learning differences to continue putting forth the extra effort."
Educators who are interested in Teacher Ally for their school can visit the Membership page on Learning Ally's website or email Programs(at)LearningAlly(dot)org.
About Learning Ally
Founded in 1948 as Recording for the Blind, Learning Ally serves over 300,000 K-12, college and graduate students, as well as veterans and lifelong learners – all of whom cannot read standard print due to blindness, visual impairment, dyslexia, or other learning and physical disabilities. Learning Ally's collection of more than 80,000 digitally recorded human-read textbooks and literature titles is delivered through internet downloads, assistive technology devices, and mainstream devices like iPhone and iPad, and is the largest of its kind in the world. Thousands of volunteers across the U.S. help to record and process the educational materials, which students rely on to achieve academic and professional success. As a 501(c)3 nonprofit, Learning Ally is partially funded by grants from state and local education programs, and the generous contributions of individuals, foundations and corporations. For more information, visit http://www.LearningAlly.org.