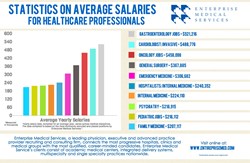 St. Louis, MO (PRWEB) August 26, 2013
Enterprise Medical Services, a leading physician, executive and advanced practice provider recruiting and consulting firm, connects the most progressive hospitals, clinics and medical groups with the most qualified, career-minded candidates. Enterprise Medical Service's clients consist of academic medical centers, integrated delivery systems, multispecialty and single specialty practices nationwide.
Medical Professional's yearly salary data, complied for an average year, varies across medical disciplines. The data complied is based on the most commonly recruited and placed positions by Enterprise Medical Services. Hospitalists, who work in internal medicine, average $240,352. Internal medicine typically includes a wide range of medical practices, defined by Merriam-Webster as "a brand of medicine that deals with the diagnosis and treatment of diseases not requiring surgery." Invasive cardiologists average $488,776 a year. Professionals in emergency medicine average $306,682 per year. Psychiatry professionals average $218,915 per year. Internal medicine professionals (non-hospitalists) average $224,110 per year. Professionals in oncology positions average $458,098 per year. Pediatric professionals average $216,112 per year. Gastroenterology professionals average $521,216 per year. General surgery professionals average $367,885 per year and family medicine professionals average $207,117 per year.
About Enterprise Medical Services and President Neal Fenster:
Since 1990, Enterprise Medical Services has been leading the market by offering an experienced staff and superior service to provide candidates and healthcare organizations with a positive and successful recruiting experience.
Neal Fenster began his career with Enterprise Medical Services in 1990 and purchased Enterprise Medical Services three years later, developing the firm into a leading physician, executive and advanced practice provider recruiting and consulting firm. As a past President and current board member of NAPR (National Association of Physician Recruiters) and an active member of ASPR (Association of Staff Physician Recruiters), Neal prides himself and his organization as having the highest level of ethical standards and practices. Neal is proud to be one of the most recognized and chosen firms for healthcare recruiting needs. Each year Enterprise Medical is directly responsible for hundreds of completed searches.
For more than 22 years, Neal's hands-on and humanistic approach to recruiting has led to numerous long-standing relationships with countless healthcare organizations nationwide.
For more information on Enterprise Medical Services, visit the website at http://www.enterprisemed.com or call 1.800.467.3737.