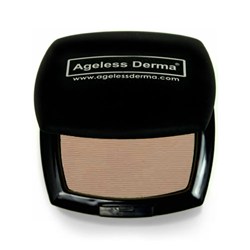 Rachel Goodyear, the Esthetician at DrSkinSpa.com, says, "Ageless Derma Pressed Mineral Foundation is made with 100% pure minerals.
Anaheim, California (PRWEB) August 15, 2013
DrSkinSpa.com is a top-selling retail web site. This successful company sells top quality brands of anti wrinkle cream and anti aging mineral cosmetics on their e-commerce web site. DrSkinSpa.com is able to offer healthy, anti aging skin care solutions that are formulated through nature. The products sold through this web store have been clinically tested to be safe and effective for a majority of mature skin care needs. They carry a varied stock composed of the most-wanted all natural anti wrinkle cream, mineral cosmetics, and skin care solutions. The latest addition to the DrSkinSpa.com family of products is Ageless Derma Pressed Mineral Foundation.
Sometimes the right mineral cosmetics can augment or even replace an anti wrinkle cream. This is the case with the newly acquired Ageless Derma Pressed Mineral Foundation. This makeup works to give the skin flawless coverage, camouflaging blemishes, age spots and more, as it also works as an anti wrinkle cream does. Its anti-aging ingredients fight off the free radicals that damage skin and lead to the formation of wrinkles.
Mineral cosmetics, most notably the pressed mineral foundation by Ageless Derma, contain natural minerals from the earth that reflect light and create a radiant, more youthful glow on facial skin. Mineral cosmetics also have natural sun protectant qualities. The sun is the skin's enemy and one of the main reasons that an anti wrinkle cream is needed in the first place. The UV rays of the sun damage and dry out the skin, forming wrinkles and fine lines in addition to creating dark spots and uneven complexions. The Ageless Derma Pressed Mineral Foundation evens out the complexion, adds a healthy glow to the skin, as it neutralizes free radicals that do the damage from beneath the outer layers of skin.
Rachel Goodyear, the Esthetician at DrSkinSpa.com, says, "Ageless Derma Pressed Mineral Foundation is made with 100% pure minerals. In addition to these light reflecting minerals, vitamins, green tea extracts, and soothing lavender are added for a true anti aging workout."
Developed by a committed group of physicians, chemists, researchers and estheticians with over 30 years of experience, Ageless Derma combines cutting-edge research with all-natural ingredients to provide the best in anti-aging skin care.
Ageless Derma was inspired by nature. Its products contain many botanical ingredients, enhanced by the knowledge and innovation of its expert researchers. At the heart of this anti-aging range are high concentration stem cells, peptides and antioxidants that have been drawn from nature to provide flawless skin without resorting to invasive or painful delivery techniques.
The Ageless Derma line contains 3 core products:

Ageless Derma Stem Cell and Peptide Anti Wrinkle Cream
Ageless Derma Retinol and Vitamin K Eye Cream
Ageless Derma has also developed an all-natural line of anti-aging mineral cosmetics. Free from all oils and parabens, this soft makeup provides natural protection to skin, keeping it looking and feeling great, day or night.