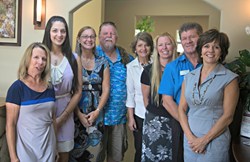 The best just got better. Comstock offers us a unique opportunity to raise the bar of programs, service and timely loan closings.
Grass Valley, CA (PRWEB) August 01, 2013
Grass Valley-based Delta Home Loans has joined Comstock Mortgage, a mortgage bank located in Sacramento. Comstock will serve as a direct lender for Delta which will keep its office locally on Nevada City Highway. The new alliance became effective on July 3, 2013.
According to Suzanne Voter, Delta's branch owner and broker, there will be little change in the day-to-day operations at Delta.
"We will continue to be a resource for home loans and look for the best possible financing programs for our clients," Voter states. "The difference is more behind the scenes. As a mortgage bank, Comstock has more ability to secure financing quickly. This streamlines the loan process to make it easier and faster. It's an enormous benefit for clients, particularly now that the real estate market is active again."
Voter points out that there are other advantages of joining Comstock. "Delta Home Loans at Comstock Mortgage will have enhanced capabilities, products and resources while maintaining our small-town, personalized service," she says. "It frees us from time-consuming administrative details so we can do what we do best, which is to serve our clients. We've been a part of the community for over 24 years, and the relationships we have established are important to us," Voter points out.
Delta Home Loans was established in 1989 by Suzanne and John Voter. In addition to Voter, there are three loan officers and two administrative staff. The company offers a variety of home and refinancing loans, reverse mortgages, FHA, VA, HARP and 100% USDA rural loans. Delta has been voted Best Mortgage Company in Nevada County 10 times by The Union newspaper's annual reader survey.
"The best just got better," Voter comments. "Comstock offers us a unique opportunity to raise the bar of programs, service and timely loan closings. This is very exciting for us and the community, and we look forward to many rewarding years at Comstock."
Comstock Mortgage has seven offices in the Sacramento area. As a direct mortgage banker, they are highly regarded for their ability to expedite loans efficiently and deliver on-time loan closings.
Comstock's Vice President Craig Sardella says Delta Home Loans was the perfect match with their business growth as well as commitment to the community.
"Comstock is a local, community-oriented, family-oriented company," says Sardella. "Delta Home Loans shares those values along with us. They are a natural fit for Comstock. We are proud to welcome them as part of our team, and we look forward to working alongside them in Grass Valley and the surrounding communities."
Production Manager Tom Putnam stated, "While we value growth, we value our clients even more. We are careful to ensure that any additions to our team share our goals and values, and that continued exemplary service to our clients is not only continued, but enhanced."
Delta Home Loans at Comstock Mortgage is located at 2428 Nevada City Highway in Grass Valley. For more information, go to http://www.deltahl.com or call (530) 478-8383.
NMLS # 165193 CA BRE # 01390474