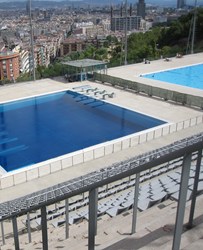 Since the Defender filter removes particulate as small as 1 micron, this is the cleanest, healthiest and fastest competition water available anywhere states Barry Gertz, Neptune-Benson's CEO
Coventry, RI (PRWEB) August 08, 2013
Neptune-Benson, a leading manufacturer of commercial pool filtration systems, ETS-UV disinfection systems, and Lawson Aquatics components, is a proud supplier of the 2013 FINA World Aquatics Championships in Barcelona, Spain.
Barcelona's 16,000 seat Palau Sant Jordi indoor sporting arena was home to the gymnastics, handball and volleyball competitions of the 1992 Summer Olympics, and is now host to the FINA World Aquatic Championships.
At Palau Sant Jordi, the Defender® Filters were paired with two Myrtha pools; a 50x25x3 meter competition pool and a 50x20x2 meter training pool. Combined flow rate for these pools is 1,408 m3/hr or 6,199 GPM. Myrtha's stainless steel, panel-constructed pools are not only an ideal solution for this type of temporary installation; but they have also set the standard as the world's fastest pools, making Defender® the perfect complement as the world's finest aquatic filter.
The two companies have teamed up on several occasions in this fashion, converting large capacity indoor arenas into the temporary center of the aquatics universe.
The event's diving competitions were held at the Piscina de Montjuïc and waterpolo at the neighboring Piscines Bernat Picornell; both of which utilized a combination of Myrtha and Defender systems. The outdoor Piscina de Montjuïc diving complex gained notoriety during the 92 Barcelona games, offering spectacular views of the city's skyline as a backdrop to the event.
This installation was a retrofit of conventional sand filters. Requiring as little as 1/4 of the mechanical space normally required for a traditional sand filter installation, the 2 Defender® filters take the place of 18 sand filters. This space efficient design allows Myrtha's engineers to take advantage of room below deck to house the filters instead of adding the expense to create a separate mechanical room. This is important as these two pools are a permanent installation.
"We are honored to have been selected to provide the filters for this premier aquatic event" said Barry Gertz, Neptune-Benson's CEO. "Since the Defender filter removes particulate as small as 1 micron, this is the cleanest, healthiest and fastest competition water available anywhere."
Defender provides a number of environmental and economic benefits as well, reducing water consumption by 90% and energy and chemical consumption by 50% and 30% respectively.
About Neptune-Benson
Neptune-Benson is the leading manufacturer of filtration systems for aquatic centers, water parks and aquatic life support. Featuring the award-winning Defender® Regenerative Media Filter, Neptune-Benson also offers steel & fiberglass sand filter systems; the AEGIS anti-entrapment shield; fiberglass movable bulkheads; Dominion butterfly valves; Guardian strainers and other accessory products. Creating the World of Aquatopia Since 1956. See: http://www.neptunebenson.com.
About Engineered Treatment Systems (ETS)
Based in Beaver Dam, Wisconsin, Engineered Treatment Systems LLC is a leader in the development and manufacture of UV systems, specializing in closed vessel UV technology. Our world class UV systems offer treatment solutions for a range of uses from recreational water to municipal and a wide variety of industrial applications. With advanced technology and a wealth of experience, ETS has the expertise to provide effective and cost efficient solutions for a broad range of industry needs. See: http://www.ets-uv.com/.
About Lawson Aquatics, Inc.
Founded 1994 as Grate Technologies, Lawson Aquatics was incorporated under its current brand in 2002 with a focus on meeting the design and functional requirements of rim-flow grating systems for commercial, institutional and luxury residential pools and aquatic facilities. The Lawson product catalog has evolved and grown over the years adding a wide variety of high quality PVC and fiberglass components including grating systems, main drains and sumps, and custom fabricated products. Today, Lawson Aquatics is the recognized leader in providing the global aquatic industry with complete, integrated main drain and rim-flow system components. See: http://www.lawsonaquatics.com.