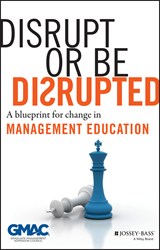 San Francisco, CA (PRWEB) August 13, 2013
In today's world, relentless change is the norm as organizations strive to stay in front of new competitors. Graduate business schools face some of these same challenges; declines in government funding, weakening student enrollment, increased institutional competitiveness and the ever-changing landscape of technology. While business and management schools have made impressive advances overall, starting in the 1950's and right up through today, many critics see business education heading in the wrong direction and still in need of a major overhaul. But how can they evolve to meet the needs of the future? How do these leading institutions, the schools that have trained millions of today's business leaders, continue to lead and change?
Disrupt or Be Disrupted: A Blueprint for Change in Management Education (Wiley; 978-1-118-60239-3; August 2013; $40.00; e-book available) is a new book commissioned by the Graduate Management Admission Council® (GMAC®) with contributions by administrators and professors from top global MBA programs— J. B. Arbaugh, Jean M. Bartunek, Kenneth G. Brown, Erich C. Dierdorff, Daniel Feldman, Michael Hay, Brooks Holtom, George A. Hrivnak, , Dipak C. Jain, Subhash C. Jain, Amy L. Kenworthy, Jikyeong Kang, Rakesh Khurana, Frederick P. Morgeson, Denis J. Nayden, Lyman W. Porter , Robert S. Rubin, Sara L. Rynes, John-Christopher (JC) Spender, and Andrew W. Stark.
Disrupt or Be Disrupted identifies specific challenges and opportunities that face business schools and provides strategies and best practices, which include:

The changes necessary to enhance the effectiveness and relevance of graduate management education in the years ahead.
Increase relevance through a school's intellectual signature.
Strategies to differentiate and change current positioning of a business school.
Making choices given financial and institutional constraints.
Best practices in faculty selection, training, and incentives, curriculum design and student engagement.
Identifying what and how to measure quality within business schools.
Business schools are in a unique position to create tomorrow's leaders. Innovative design and keeping up with 21st century demands will be paramount to the success of this institution. Disrupt or Be Disrupted is essential reading for deans, education leaders, faculty and students alike as it provides the crucial roadmap that will create lasting contribution to learning teaching and business practices of the future.
About Graduate Management Admission Council (GMAC):
GMAC is a non-profit organization of leading graduate business schools and owner of the Graduate Management Admission Test® (GMAT®), used by more than 5,800 graduate programs in business and management worldwide. The Council has offices in the USA, UK, India, and Hong Kong; and in addition to the GMAT exam, provides a variety of products and services designed to serve the graduate management education community worldwide. The GMAC mission is to be the leader in the discovery and evaluation of talent, through assessments, for management education and practice around the world.