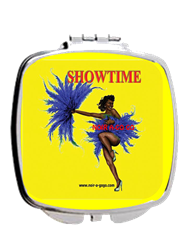 Beat the heat, and be pinup pretty all at the same time!
BROOKLYN, NY (PRWEB) August 01, 2013
The world's only Black Pinup Girl-themed gift and stationery company has gone crazy from the heat! Scorched by the summer sun, perhaps delirious, Owner/Designer K.C. Washington---one cool kitty herself---has decided to offer an irresistible deal.
"I figure if one has to suffer one should look good doing it!" says Washington, who as a novelist, knows how to paint a pretty picture.
And towards that end, Washington, who launched the online gift store two and half years ago, is offering her immensely popular comp act mirrors for only $15! And to sweeten the deal she's also throwing in a "Love" Greeting Card!
"Our compacts come in two different styles and are designed to make you feel sexy and cool as you make sure your face is pinup perfect even in the midst of summer," says Washington.
The "Pucker Up" compact features Noir's main pinup Charlie on a hot pink background and the "Showtime" mirror offers Charlie again this time mid fan dance. Both are double-mirrored, 2 1/2 by 2 1/2, with an elegant beveled back for easier gripping. Noir A-G o Go's popular "Love" note card is 4 by 6 inches, printed on recycled paper, sports the saying "Love You, Cross My Heart", and can be used for a general greeting or even framed.
Washington says she's paired the two popular items to give potential customers a broader taste of Noir A-Go Go's catalogue. The store that puts the black in the magic that is 50s Americana wants everyone to get to know them better, beat the heat, and be pinup pretty all at the same time.
About Owner and Designer K.C. Washington
K.C. launched Noir A-Go Go in January 2011, with the idea that something was missing within the American pinup girl genre, namely women of color. So she decided to put what she calls a sepia spin on the beloved genre and Noir A-Go Go was born. Convinced that the world is more than familiar with the image of African Americans fighting for their rights during the Civil Rights era, she wants to show another image from that time---one of glamour and wit. A Mellon Fellow and a novelist with a background in journalism and literary and historical fiction, K.C. has raised the curtain on a world of beautiful, empowered, stylish women (and a few men) and placed them on everything from magnets and tee shirts to tote bags and greeting cards, with more to come as she expands.