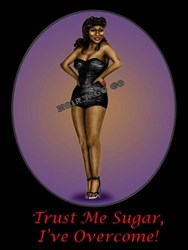 It doesn't get more old school than the pinup girl unless it's the postcard!
Brooklyn, NY (PRWEB) August 20, 2013
Noir A-Go Go, the world's only Black Pinup Girl-themed gift and stationery store goes old school with their new one-of-kind postcards.
The three general themed cards plus three New York inspired cards are printed on recycled paper and feature Black pinup girls in classic poses with nontraditional sayings such as "Trust Me Sugar, I've Overcome" and "Hot Chocolate Served Daily".
"It doesn't get more old school than the pinup girl unless it's the postcard!," says K.C. Washington who is the owner and creative mind behind the two and half year old gift company. "And when you combine the two, it's like wow, crazy original, crazy fun. And at 3 dollars a pop, it's like getting a 1950s deal or riding the pony express," laughs Washington.
In the era of twitter and instant message which are instantly forgotten, Washington says she wants people to pause, take a moment to reflect on what they want to say to a lover, a friend, or family member, and then she wants them to have fun! That's why she has created this line of cards.
"The whole idea behind the company is to embrace your inner sex kitten, move a little slower, take a little time to rejoice in yourself and your friends and family. And what better way than to sit down with a Noir A-G o Go postcard, scribble out a brief yet profound message and then pop it in the mail? No better way, unless you call them on the phone which leads me to our new smartphone cases but that's a discussion for another day," says Washington with a wink.
About Owner and Designer K.C. Washington
K.C. launched Noir A-Go Go in January 2011, with the idea that something was missing within the American pinup girl genre, namely women of color. So she decided to put what she calls a sepia spin on the beloved genre and Noir A-Go Go was born. Convinced that the world is more than familiar with the image of African Americans fighting for their rights during the Civil Rights era, she wants to show another image from that time---one of glamour and wit. A Mellon Fellow and a novelist with a background in journalism and literary and historical fiction, K.C. has raised the curtain on a world of beautiful, empowered, stylish women (and a few men) and placed them on everything from magnets and tee shirts to tote bags and greeting cards, with more to come as she expands.