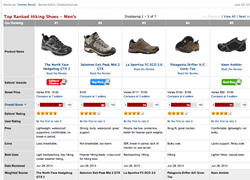 We tested five of the most popular hiking shoes across various terrain and conditions throughout the country.
Cheyenne, WY (PRWEB) August 31, 2013
OutdoorGearLab.com revealed today the results of the 2013 Best In Class Awards for the Top Men's Hiking Shoe review, listing this year's best and best value. Review Editors chose the following winners after extensive field testing in The Sierra Nevada, Utah desert and Cascade Range. OGL took eight models and put them to side-by-side tests to figure out what was the best in the following categories: weight, traction, support, comfort, versatility, durability and water-resistance. The most important aspects of a hiking shoe are that it is comfortable, breathable and give the proper support for the terrain. Even though all the contenders reviewed performed well (choose only the best for testing), OGL found that some boots are better for certain applications than others. Each underwent extensive head to head endurance challenges to evaluate these key performance differences.
The winners are:
The North Face Hedgehog GTX 3, winner of the Editors' Choice Award for 2013. According to Gear Editor Tommy Penick, "This shoe instantly stood out. Unlike heavier boots, the Hedgehog broke in instantly and felt extremely comfortable. The Gore-Tex lining and Vibram sole are top quality and burly ingredients and yet the shoe remained one of the lightest in field tests."
Keen Ambler, winner of the Best Buy award for 2013. This award is given to a product that balances an extremely high score in OGL tests and a very reasonable price. According to Penick, "This was maybe the most comfortable hiker in the review. It is among the lightest in the review and the closest one to the feeling of wearing bedroom slippers. There is not much burly support, but many hikers will gladly trade that for lightness and relaxing feel."
Salomon Exit Peak Mid 2 GTX, winner of the Top Pick award for 2013. This award is given to a product that excels at a specific application. In this case, this was the best burly and supportive hiking shoe. According to Tommy, "The Salomon had so much support it nearly made it into the hiking book category. But the light package and comfort kept it as an ideal shoe for hiking."
OutdoorGearLab LLC is a company headquartered in Cheyenne, Wyoming dedicated to creating the world's best outdoor gear reviews. The company's website is a free resource for people who love the outdoors and participate in activities such as hiking, climbing, backpacking, and camping. The company performs side-by-side testing of outdoor gear and publishes the results in comparative reviews. Each product is scored across a range of weighted categories, competing products are ranked, and awards are provide to top performing products.