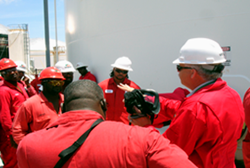 outreach trainers also cannot state that the outreach training is OSHA-compliant or that it meets requirements stipulated by any OSHA standard or policy
Richardson, TX (PRWEB) August 05, 2013
The Occupational Safety and Health Administration, OSHA, which oversees the OSHA 10-hour and 30-hour training programs has recently updated the Outreach Training Program requirements.
In addition to changing some of the rules governing which classes an OSHA-authorized instructor can teach and how exceptions to training rules can be approved, the new regulations also endeavor to bring some clarity and consistency to how OSHA-accepted outreach training classes are advertised and promoted.
William Mizel, CSP, President of OSHA Pros USA, LP, a national OSHA training company, explained: "OSHA wants to make sure that no pre-printed language on the card includes any sort of expiration language. Currently, the OSHA 10 and 30-hour training cards do not expire, and OSHA wants to weed out unscrupulous trainers that might try to misrepresent the nature of the wallet card."
Mr. Mizel went on to explain that outreach trainers also cannot state that the outreach training is OSHA-compliant or that it meets requirements stipulated by any OSHA standard or policy. "Although OSHA regulates the materials that are taught and provides guidelines and restrictions on who can teach outreach training and how they teach it, they are not in direct management of the program and they want to make sure there's no confusion on that point."
An additional area that the updated Outreach Training Program requirements addressed was the online training policy.
"Online outreach training is currently very popular," observed Mr. Mizel, "The same stringent guidelines that are used for the onsite training are also used in the online classes, and the online OSHA 10 and 30-hour cards are identical to the onsite OSHA cards. At the same time, the online classes give much greater flexibility for those students who may only have one or two hours per day to work on the classes compared to the four 7.5 hours a day for onsite training."
The latest policy stipulates that OSHA will only accept for review or authorization online outreach training program proposals in response to competitive solicitation. Currently, there are numerous organizations that have been approved to provide the online OSHA 10 and 30-hour training classes to students. These organizations have partnered with different consulting companies such as OSHA Pros (http://www.osha-pros.com) and Comprehensive Safety Resource (http://www.csrsafety.com ) which markets these classes for those organizations. The organizations will then provide assistance and technical support for the students that are taking these online courses.
About OSHA Pros, LP
OSHA Pros, LP is a safety training company offering OSHA outreach training as well as safety consultation and a variety of workplace safety classes nationwide. For two decades, OSHA-Pros has provided high-quality OSHA Training and Compliance service to companies and individuals all over the world.
For additional information about this release, contact Jenny Foley at 1-866-442-6742. For information on obtaining the OSHA 10-hour card or 30-hour card, visit http://www.osha-pros.com.