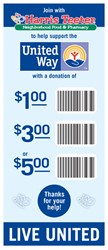 Charlotte, NC (PRWEB) August 13, 2013
Harris Teeter has launched a donation card campaign to support United Way, an organization creating long lasting change for those most in need through strategic community philanthropy.
Today through Sept. 13, 2013, Harris Teeter customers at every Harris Teeter location will be able to make $1, $3 or $5 donations to United Way at checkout. Similar community-based donation card campaigns hosted by Harris Teeter have raised more than $500,000 in a given month, and last year, Harris Teeter customers donated over $570,000 to local United Ways as part of this campaign.
"Harris Teeter is proud to once again support United Way and is thankful for both the involvement of its associates and its customers," said Catherine Becker, communication manager for Harris Teeter. "Our customers are also extremely generous, and our goal during this campaign is to not only raise money for United Way, but to also increase awareness of the nonprofit's role in raising funds for its local nonprofit partner agencies."
The funds donated to United Way at checkout will be given to the United Way chapter in the community nearest to the Harris Teeter at which the money was raised.
"We're blessed to have Harris Teeter headquartered here in Mecklenburg County, but they also support United Ways in every market where they do business, so communities all across the Southeast and Mid-Atlantic benefit from the company's generosity," said Jane McIntyre, executive director of United Way of Central Carolinas. "We thank Harris Teeter for its philanthropic leadership, and we're equally appreciative of all the grocer's loyal customers who support United Way."
About United Way
United Way is a worldwide movement of nearly 1,800 community-based United Ways in 41 countries and territories. It advances the common good by focusing on education, income and health – the building blocks for a good quality life. The United Way movement mobilizes millions to action – to give, advocate and volunteer – to improve conditions in their local community. For more information about United Way, please visit UnitedWay.org.
About Harris Teeter
Harris Teeter Inc., with headquarters in Matthews, N.C., is a wholly-owned subsidiary of Harris Teeter Supermarkets, Inc. (NYSE: HTSI). Harris Teeter is the 23rd largest supermarket in the U.S. with 2012 sales of $4.54 billion. The regional grocery chain employs approximately 25,000 associates and operates stores in North Carolina, South Carolina, Virginia, Georgia, Tennessee, Maryland, Delaware, Florida and the District of Columbia.