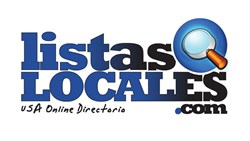 We are very excited to partner with the beautiful and talented Alicia Machado.
Tampa, FL (PRWEB) August 26, 2013
The online Spanish Directory ListasLocales.com, the leading and most comprehensive online search solution for the ever-growing U.S. Hispanic consumer population is proud to announce its new face, Alicia Machado. Alicia is an International Latin actress, businesswoman, TV show host, singer and former Miss Universe.
Alicia began her acting career in 1997 starring in the soap opera "Samantha" in her native Venezuela. This positioned her as one of the major leading actresses in the Latin world. Thanks to her capabilities this beautiful actress has walked all professional scenarios, acting in soap operas, films, theater and TV, thus developing her acting career mainly in Mexico and the U.S. Hispanic market. She has been the face of various commercials and has hosted major international galas such as the Latin Grammys, Billboards, Emmys and many more. She has been the recipient of several acting awards and was nominated as a composer at the Latin Grammys and Billboard awards.
This year will undoubtedly mark one of the highlights of her career for her role in "La Madame", a 2013 Spanish-language series produced by RTI Producciones and RCN TV with Sierralta Entertainment for Colombia-based television network RCN TV. The series will be aired by Televisa and the Univision Network.
Alicia is now featured on the ListasLocales.com U.S. Hispanic campaign which will launch August 2013. Through this campaign, ListasLocales will create additional national awareness of its localized online directory serving 73 markets. ListasLocales.com brings Hispanic buyers and local businesses together in their communities. ListasLocales online site and mobile applications reaches Hispanic consumers when they need products or services in their areas. Hispanic Consumers can also register to access valuable savings coupons from our advertisers. The users will also be engaged via its various social media platforms which allows them to register on the site to win weekly prizes and even the opportunity to win a 2013 Chevy Camaro this December.
"We are very excited to partner with the beautiful and talented Alicia Machado. Through our commitment and marketing efforts, we will bring the finest service and the best quality Spanish online directory to our clients, partners, and consumers within our communities." Jeff Devin, CEO of Listas Locales, a Hispanic Local Search, LLC Publisher member of Local Search Association.