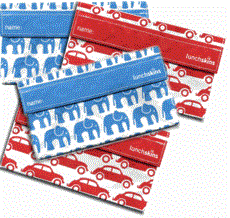 Sussex, WI (PRWEB) August 06, 2013
Known for its wide selection of eco alternatives, brightandbold.com is encouraging its customers to ditch Ziploc and go with Lunchskins, a collection of reusable sandwich and lunch bags. Made from cotton coated with a nontoxic, water resistant lining, Lunchskins keep food fresh in a stylish, environmentally-savvy pouch. With school starting soon, Lunchskins are a smart investment for brown bag lunches.
Lunchskins are made from a European fabric used in patisseries and bakeries, certified food-safe and able to withstand high temperatures. Thus, Lunchskins keep food fresh and can easily be cleaned in the dishwasher. Velcro closures allow the bags to keep food secure and prevent any leaks or spills.
Using this eco alternative to plastic bags benefits the environment, saves money, and keeps food tasty. Reducing one's "daily lunchprint" is Lunchskins' mantra, and within one year, the company has save over 120 million plastic bags from landfills. Using Lunchskins reduce waste and keep the earth healthy.
Brightandbold.com carries a large selection of Lunchskins products, including large lunch bags, sandwich size bags, and snack size bags. Multiple colors and prints are available, including the brand new flowers, trees, and dots set. The elephant and cars set is also for sale. Lunchskins are sold in packs of three, and are priced from $19.95 to $28.95.