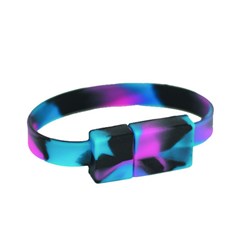 Sussex, WI (PRWEB) August 01, 2013
Brightandbold.com, an online eco boutique, has added OnHand's USB Flash Storage Drive bracelets to its online collection. These casual, colorful wristbands disguise a convenient 8 gigabyte storage drive. Made from silicone and ROHS compliant, these bracelets are safe and comfortable for students and those alike needing to have their digital files on hand.
As the digital world becomes increasingly larger, so does the need for products that make digital information easily accessible. OnHand bracelets are the solution for keeping files secure and handy. Each USB drive is wrapped in silicon, making the product durable and comfortable to wear on your wrist. This gender-neutral band is not limited to wrists, however. It can be clipped around anything.
Brightandbold.com sells wristbands that measure 7.3 inches around, fitting mosts wrists. Each band costs $22.95 and ships free.