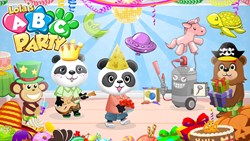 (PRWEB) August 15, 2013
Lola Panda teaches kids maths, ABC's and logical skills in the popular tablet and smart phone games. Lola's ABC Party was launched in June 2013 and its customer base and number of game sessions is accelerating rapidly. Lola Panda reached the one million game session mark in June with 1.2 m game sessions and hit 2.2 m sessions in July 2013.
"The reason for the explosive growth in the user base in recent months has mainly been bigger investments in game development. BeiZ has doubled the size of its organization from 10 to 20 people in one year and now we can see great results. We aim to launch two new games during 2013 and expect to increase the number of game sessions by one million each month for some time to come," says CEO Mika Heikinheimo.
One significant benefit from the larger organization has been the ability to learn more from customers and partners. "Our friendly teacher advisory group really helped us with our last game and we were able to make some significant changes prior to global launch. Different schools still learn ABC's and math in slightly different ways and with teachers' help we have been able to make excellent compromises that seem to please an ever-larger customer base," continues producer Miska Fredman.
Lola Panda and team are celebrating their 2 million monthly player milestone with Lola's ABC Party Campaign. Its full version is now available for two days for 0.99 between 14th of Aug and 15th of Aug.
Let's begin the party – it's ice cream time!
Lola's ABC Party Android:
https://play.google.com/store/apps/details?id=com.beiz.lolasparty
Lola's ABC Party (iPad & iPhone):
https://itunes.apple.com/app/id656542517
Media Kit & Trailer
http://www.beiz.com/dataserv/abc_party.html
http://www.youtube.com/watch?v=0dYYD62SsnE
Media contacts: tarja.heinonen(at)beiz(dot)com
BeiZ, the inventor of the Lola Panda™ series, is a game studio that concentrates on providing enjoyable educational solutions and non-violent games for children. BeiZ also assists its partners in publishing their games and mobile content. BeiZ has its headquarters in Finland. Copyright (C) 2013 BeiZ Ltd. All Rights Reserved.