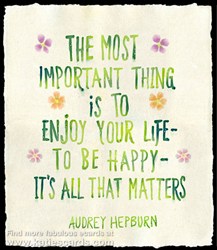 Our Wise Words ecards have been extremely popular on Pinterest. We knew that similar images featuring quotations had been very popular on Pinterest and are pleased that we have been able to tap into this trend. We're looking forward to creating more.
(PRWEB) August 13, 2013
This month, ecard retailer Katie's Cards has announced that it will be adding a selection of new ecards to its Wise Words category. This category consists of a collection of non-animated ecards each featuring an inspirational quotation. Interestingly, the original motivation for creating the Wise Words category was the hope that images of the cards would be shared on the increasingly popular social media site, Pinterest.
As Katie's Cards CEO, Katie Davies, reports, the company has not been disappointed by the results:
"Creating our Wise Words ecards was a gamble. They are completely different from anything that we had done before and we were not sure how they would be received by our subscribers, let alone how they would be received on Pinterest. To our relief, they have been extremely successful and we are delighted with the results. We knew that similar images featuring quotations had been very popular on Pinterest and are pleased that we have been able to tap into this trend."
The most popular Wise Words ecard on Pinterest was, by a long way, the image featuring a quotation by Audrey Hepburn. At the time of going to press, it had been re-pinned forty-six times and 'liked' eleven times. This is a huge amount even by Pinterest standards and it demonstrates that the Katie's Cards team was not wrong in its prediction that the Wise Words cards had great potential. The other ecards uploaded to this increasingly popular social media website were also very successful and were re-pinned numerous times. Second to the Hepburn card was the card which featured a quote from Aristotle and this was followed by an image featuring a quote by Epictetus.
Interestingly, different cards have been popular on the Katie's Cards website than on Pinterest. The most popular card amongst Katie's Cards subscribers has been the 'Where is the Love' card which features a quote by Gandhi. The Audrey Hepburn card, which was so popular on Pinterest, falls quite far behind in popularity in the website statistics.
Katie Davies, the company's CEO, decided to investigate what, exactly, made the Audrey Hepburn ecard so incredibly popular on Pinterest:
"We wanted to analyse what made the Audrey Hepburn card particularly popular and the results were very interesting. By analyzing which boards people had pinned the image to, the reasons why this card was so popular became clear. We found that the people who had re-pinned this card had done so for one of two reasons: either because they were pinning to a board of general inspirational quotes, or because they were pinning to boards dedicated to Audrey Hepburn who, for many people, is one of the greatest female icons of our time."
In response to this, the Katie's Cards marketing team has carried out further analysis into which celebrities and pop culture icons have a big following on Pinterest. The influence of this research is reflected in the new cards being added to the company's website this month, which include a card featuring a quotation by style icon and fashion designer Coco Chanel. The other new ecards that Katie's Cards plans to upload to both the company's website and to Pinterest feature witty quotations from the writer Mark Twain. With analytics for businesses now available on Pinterest, it will be interesting to see how companies such as Katie's Cards continue to use the site in increasingly creative and innovative ways.