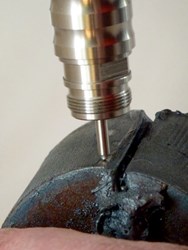 "NewSonic's SonoDur product line is a perfect complement to Spectrographic's existing product portfolio and will open up a broad range of new applications." Paul Chippendale, Managing Director, Spectrographic
(PRWEB UK) 6 August 2013
Spectrographic Limited is expanding its range of products with the introduction of ultrasonic contact impedance (UCI) hardness testers in partnership with NewSonic GmbH.
The innovative SonorDur technology will help engineers in the material sciences industry, production and quality control with portable measurement of material hardness, to check surface hardening and understand the basic mechanical properties of metals. These type of hardness testers are used in the advanced engineering companies working in oil and gas, aerospace and automotive industrial sectors to ensure correct material are used for critical components.
The UCI method uses compact portable equipment and is suitable for most metal products and industrial ceramics. This type of hardness tester (UCI) has many industrial applications including mechanical engineering, plant equipment and construction, ship building and (wind-)powerplant maintenance, machine and component inspections and aircraft industries. This method of hardness testing is carried out in accordance with international specifications governed by the American Society for Testing and Materials (ASTM) and other international authorities depending on the testing requirements and location of the test.
The system's SonoDur's handheld probe is simple to use and delivers fast, accurate results without the use of special attachment sleeves or tripods. The probe's accessible design is set up for the required testforce with options ranging from HV1 to HV10, and the measurement location can be easily positioned . A "long nose" probe with extended sensor rod could solve applications with difficult accessible test piece geometries (gear tooth, holes).
The system is suitable for a wide range of materials: for scratch sensitive, very hard surfaces (Plasma-nitride, Chrome plating >1000HV), or very soft materials like Copper Plating surfaces motorised probes with low loads from HV0.1 to HV0.9 are available.
Spectrographic works closely with NewSonic and suppliers worldwide to offer technical and application advice about hardness testing to customers. Managing Director, Paul Chippendale is convinced that the SonoDur product line is a perfect complement to the existing product portfolio and will open up a broad range of new applications. NewSonic owners are skilled physicists and engineers with more than 25 year experience in the non destructive material testing industry, being a competent technology partner for us.
NewSonic managing director, Manfred Tietze comments, "the partnership between ourselves and Spectrographic is a fantastic opportunity for opening up UK support of our range of portable hardness testers. The highly skilled Spectographic engineers are best suited to pay the necessary concentration on SonoDur products in order to achieve the optimal solution for our customers. Therefore we look forward to a long and prosperous relationship!"
Spectrographic Ltd offers a comprehensive range of metallographic products and equipment for material science analysis and quality inspection procedures, as well as specialist advice in material sample preparation, computer based image analysis and microscopic inspection.
Spectrographic is a family-run business, which was originally founded in 1999 as Spectrographic Laboratory Supplies. Now based in Baildon, West Yorkshire with demonstration laboratories in Bradford, Halifax and Leamington Spa, Spectrographic was set up, and continues to be run, by Managing Director, Paul Chippendale – a skilled metallographer with over 20 years' experience in the industry.
Spectrographic's customers are expert metallurgists working in the automotive, oil and gas and aerospace industries, and for higher and further education establishments, and include organisations such as Rolls Royce, BAE Systems, Siemens and Tata Steel, The University of Oxford, The University of Manchester, The University of Sheffield and DEKRA Industrial.
For more information about Spectrographic visit http://www.metallography.co.uk or contact a member of the team on telephone 01274 966 173 or email info(at)metallography(dot)co(dot)uk.