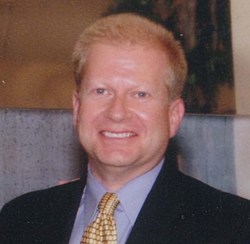 Sun Valley, CA (PRWEB) August 01, 2013
Equipment Brokers Unlimited (EBU), a leading provider of refurbished copiers and digital equipment, today announced that Marc Theaman has joined the company as Vice President of Sales. In this role, Theaman will be responsible for new business development, sales strategy, client support and growth initiatives.
"EBU is a fast-growing company with a compelling market proposition that resonates with companies looking for top tier solutions at an aggressive price point," said Theaman. "I'm thrilled to join the EBU team and to accelerate the growth of the company while continuing to support their commitment to absolute customer satisfaction."
Theaman has an extensive background in the imaging industry in sales, business development, national account management and business consulting. Most recently, Theaman served as Vice President, National and Government Accounts for Kyocera Document Solutions America, Inc. In this role, he managed all aspects of sales and marketing for printer and multifunctional product solutions, a managed print services program, and software and utilities within the division. Prior, Theaman served as the Vice President of Business Development for Strategy Development, a management consulting and advanced training firm for the technology and outsourcing space. In addition, Theaman spent more than 20 years at Ricoh, with experience in channel development, national account development, and training and employee development. As region vice president of Ricoh's IKON division, Theaman led a dealer sell-thru strategy stimulating demand for Ricoh products from end users. Prior to this assignment, Theaman was the director of sales and marketing for the national account division responsible for developing and implementing Ricoh's RMAP and DMAP program, expanding sales from $40 million to $220 million over a 10-year period and establishing Ricoh as the premier dealer major account support program in the industry.
"Marc is a highly tenured professional with a stellar reputation in the imaging industry and beyond," said Dave Marder, CEO of Equipment Brokers Unlimited. "His vast knowledge of the dealership community, along with his strong ties to dealers, will be a tremendous addition to EBU. Marc's background in sales leadership, customer service, strategy consulting and business development will have an immediate and accretive impact on our organization and we look forward to him being part of our team for many years to come."
Marc Theaman can be reached at mtheaman(at)ebu-llc(dot)com or 818-605-1239.
About Equipment Brokers Unlimited
Equipment Brokers Unlimited (EBU) specializes in selling and buying used and refurbished copiers and digital equipment. EBU has become the preferred domestic and international clearing house of name brand digital imaging equipment located in Los Angeles, California for over 15 years.
Follow us online:
Web: http://www.equipmentbrokersunlimited.com
Twitter: @ebulive
Call Us:
(866) 402-9511
Email:
SALES: SALES_EBU@EBU-LLC.COM
EXPORT: lmarder(at)ebu-llc(dot)com
PURCHASING: PURCHASING_EBU@EBU-LLC.COM
Address:
Equipment Brokers Unlimited
11156 Sherman Way
Sun Valley, CA 91352