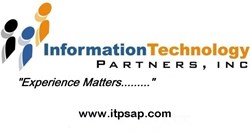 Our Experience... Your Advantage...
Bridgeville, PA (PRWEB) August 13, 2013
IT Partners, Inc, leading SAP consulting firm, has been certified as an Open Ratings Top 20% Performer based on the past performance evaluation (PPE) survey responses from its past customers. IT Partners, Inc's PPE score of 97/100 demonstrates outstanding overall customer satisfaction relative to similar companies providing SAP solutions.
Each year, Open Ratings research conducted by Dunn & Bradstreet, helps thousands of companies secure contracts with large purchasing organizations such as the GSA by verifying their performance with past performance evaluations.
The customer satisfaction metrics that are evaluated in the survey include:
•Reliability
•Cost
•Order accuracy
•Delivery/timeliness
•Quality
•Business relations
•Personnel
•Customer support
•Responsiveness
The PPE score is based on the survey feedback of between four and twenty verified references. To obtain a copy of the PDF PPE report for IT PARTNERS, INC. click here.
About IT Partners, Inc.:
IT Partners, Inc. is a SAP consulting firm headquartered in Bridgeville, Pennsylvania. As one of the leading small business, women-owned SAP companies in the USA, ITP offers comprehensive planning, resource allocation, implementation and upgrade assistance and training to companies using SAP in the Eastern United States through on-site and remote access consulting. IT Partners, Inc. specializes in IT consulting services, SAP career mentoring, SAP application integration and more. For a full list of services and to learn more about IT Partners, Inc. please visit http://www.itpsap.com .