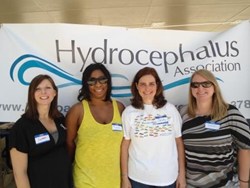 Charlotte, NC (PRWEB) August 14, 2013
The Charlotte Partners of the Hydrocephalus Association will host its inaugural Hydrocephalus WALK at the Charlotte Knights Baseball Stadium, 2280 Deerfield Drive in Fort Mill, South Carolina on Saturday, September 28, 2013. Money raised will support the Hydrocephalus Association's national goal to raise more than $750,000 to fund critical medical research and to support current education and outreach projects. The Hydrocephalus Association is the nation's largest patient-advocacy group dedicated to eliminating the challenges of hydrocephalus for the estimated 1 million American affected by the condition.
Hydrocephalus, a condition characterized by an excess of cerebrospinal fluid in the brain, is both life-changing and life-threatening. There is no cure. Its only treatment requires brain surgery, most commonly to implant a shunt; a surgery that may be oft repeated during a patient's lifetime due to equipment failure and infection.
"We are walking to raise awareness and to support those families who are impacted by hydrocephalus," said Christy Ruth, event co-chair and parent of a 10-year-old daughter who was diagnosed with the condition in utero. "When, during our 17-week ultrasound, we discovered Ashley had hydrocephalus, we had never heard of (it). She had her first shunt surgery when she was two days old and since had nine other shunt related surgeries."
About 6,000 babies are born with hydrocephalus annually. However, anyone can develop hydrocephalus at any age. While hydrocephalus affects about the same number of patients across the country as autism and Parkinson's disease, it remains far less known and far less funded.
"Treatment for hydrocephalus has not changed significantly since the 1950's," Ruth noted. "It's time to find a cure and improve treatment options."
The greater Charlotte area's Hydrocephalus WALK, sponsored by the Charlotte Knights, will feature food and games for the entire family. The 5K WALK starts at 10 a.m. For more information, contact co-chairs Susan Slattery-Rogers at 704-488-7434 or Christy Ruth at cruth(at)carolina(dot)rr(dot)com.
To register or make a donation online, visit http://walk4hydro.kintera.org/charlotte.
About the Hydrocephalus Association
Founded in 1983 by the parents of children with hydrocephalus, the Hydrocephalus Association is the nation's largest and most widely respected organization dedicated to hydrocephalus. More than 60 percent of HA's funding comes from individual donations and events, and approximately 35 percent comes from foundation and corporate grants. The Hydrocephalus Association's mission is to eliminate the challenges of hydrocephalus. For more information, visit the Hydrocephalus Association Web site at http://www.hydroassoc.org or call (888) 598-3789.