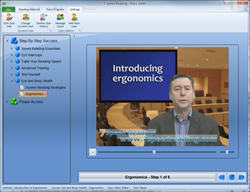 ...the rising popularity of Apple OSX created the need to provide a MAC-compatible version of the software.
New York City, NY (PRWEB) August 01, 2013
Last September witnessed a radical change in the software industry when reports suggested that the MAC operating system (a product of Apple Inc.) surpassed the overall web usage of Windows Vista. The change highlighted the need for software developers to design software products that are compatible with a range of operating systems. The developers at eReflect were not the last to answer this need, said a company representative in a recent statement.
eReflect is known for its innovative products and constant upgrades to existing products, and therefore it is unsurprising that the company launched a MAC-compatible version of their 7 Speed Reading software product a few days ago. The wide popularity of 7 Speed Reading software provided an indication to the eReflect developers to prioritize an upgrade to the software, revealed the eReflect team representative. The team representative explained that the rising popularity of Apple OSX created the need to provide a MAC-compatible version of the software.
The eReflect team members highlighted the distinctive features offered in the latest version of the 7 Speed Reading software, outlining the reasons why this software not only allows users to enhance their reading speed far above average but also focuses on improving memory and comprehension power. These skills can be particularly handy for individuals that are either studying at a professional level or are currently focused on their career development.
Amongst the different software for speed reading available in the market, 7 Speed Reading software has gained immense popularity. The team believes that this success is largely due to the latest technology integrated within the software. The software offers Wiki connect technology and an extensive range of e-books, while also supporting multiple users at no extra cost. The high value for money provided by the software has resulted in the software becoming a particular favorite amongst the customers in the company's target market.
The team concluded that the MAC-compatible version of 7 Speed Reading software will now allow eReflect to cater to the needs of a range of users that prefer different operating systems.
For more information about the benefits of using 7 Speed Reading, please visit the official website at http://www.7speedreading.com.
About 7 Speed Reading™
7 Speed Reading is the only modern speed reading software that uses the latest technology to produce superior results.
The software provides its users with a new way to master speed reading that guarantees three times the reading speed along with improved memory and comprehension.
The software is poised as the most comprehensive speed reading system anywhere. It contains seven learning strategies, fifteen software activities, video training, advanced tracking capabilities and many more exciting features.