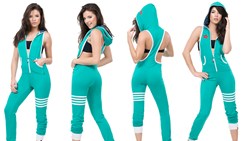 "Immediately after acquiring CCR last December we began our drive toward two major goals: expanding our product offering beyond jumpsuits to full sportswear collections, as well as launching a new and greatly improved ecommerce site," CEO George Jones
Los Angeles, California (PRWEB) August 01, 2013
California Creative Republic has just launched its new site ccrbrand.com which debuts its 2013 line of jumpsuits, rompers, tops, bottoms, jackets and swimwear. This leading fashion line has collaborated with celebrities like Britney Spears, Katy Perry and Rihanna. CCR Brand has also supported famous DJ'S like David Guetta are Afrojack; as well as producing Co-Branded Merchandise for Insomniac's EDC in Las Vegas and ULTRA Music Festival in Miami. Now, CCR is making moves so that it can share its passion for music and creativity with the world.
CCR Culture is all about "having fun" so people can plan on seeing CCR jumpsuits and apparel at events such as the upcoming Sensation events that make their way from Europe to the United States this year (San Francisco, Las Vegas, Miami, and New York) and on the streets and campuses across the country. Their new site makes it easy to for anyone to sport a CCR jumpsuit or top.
About California Creative Republic
Los Angeles based company, CCR Brand, was founded in 2010 by a group of visionaries wanting to bring fashion into the 21st Century. The CCR team immersed themselves in the creativity of the Music World and began working with some of the biggest stars, stylists and designers in the business. Within a few short months, the company styled Willow Smith's: "Whip My Hair" music video, and Britney Spear's: "Till the World Ends" which won MTV's Award for "Best Pop Video" (2011). The press picked up on CCR's fresh new look and coverage by US Weekly, People, Teen Vogue, Perez Hilton and Just Jared, among others, put CCR and its signature jumpsuits on the map. Tastemakers like Katy Perry's Stylist, Johnny Wujeck, took notice of what CCR was doing and asked the design team to make a custom Jumpsuit for Katy to wear at COACHELLA. It was such a hit, that she ordered them for her entire band, dancers, signers, and crew on her "California Dreams" World Tour. It wasn't long before her friend Rihanna saw the suits, and she too ordered them for her "LOUD!" World tour. CCR Jumpsuits are now the preferred tour gear for everyone from Taylor Swift to SLASH, Tommy Lee, and Steven Tyler.
Identifying CCR as a brand with huge opportunity, former Saks Department Store Group CEO George Jones acquired controlling interest of California Creative Republic in December 2012. George has since led the company to expand CCR's product offering, to full casual sportswear lines for both men and women, targeting the forward thinking contemporary customer.