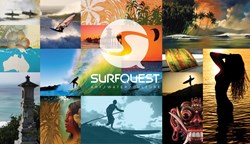 We were inspired by the pursuit of a quest. Get out there and Explore the Edge. For years we have been exploring, through our travels, we have experienced unique cultures, art and locations. Each of these regions have their own indiginous style.
Wilmington, North Carolina (PRWEB) August 09, 2013
SurfQuest, a company focused on surf apparel, is announcing the launch of their new website and new custom surf gear and surf accessories. Artists from around the world have contributed to the SurfQuest surf apparel. The same artists that the founder and his employees have met throughout the years while traveling. Surf gear and surf accessories have always been a main priority of SurfQuest, but now they're focusing even more on surf apparel by having these artists create unique and custom designs for their customers.
Designs for surf apparel now include the shape of Africa, hula girls, surfboards, dorsal fins, and basic decals. The surf apparel designs are being brought in internationally to the United States for customers of SurfQuest to have a glimpse of other cultures. Aside from surf apparel, SurfQuest is also focusing on surf accessories, specifically sunglasses. These surf accessories were created with surfers in mind and the colors match up with their other surf gear and surf apparel.
Background on SurfQuest
Robert Parker, founder of SurfQuest, traveled the world searching for the perfect waves, spending an endless summer meeting new people and creating lasting friendships. He traveled to South Africa, Australia, Baja, and Maui among others. Once he returned to the United States he was inspired to create SurfQuest. He uses SurfQuest to reach out to those friends he made along the way, especially those artistically inclined, and have them create the art found on SurfQuest surf apparel.
SurfQuest now focuses on art with soul that truly represents each area or region the artists live in so those around the world can sample local flavors without having to leave their hometown. SurfQuest takes the art created and turns it into take-home pieces for their customers in the form of surf apparel, surf gear, and surf accessories.
Contact: Robert Parker
Office: 910-297-5341
Email: Info(at)MySurfQuest(dot)com