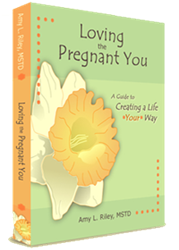 "Presents an empowering way to approach your pregnancy." - ROBBYE D. MCNAIR, MD, Obstetrics Gynecology, Northwestern Memorial Hospital
Chicago, IL (PRWEB) August 05, 2013
The Loving the Pregnant You book shares a wide variety of stories from a diverse group of women. In this way, each reader can find sets of circumstances, choices, and mindsets that resonate with her. Each reader is also likely to encounter stories about approaches that she is certain will NOT work for her. Riley notes that this is valuable information as well. With its periodic "Check ins" – questions designed to help the reader explore her own feelings toward a topic – the book is designed to provide an insightful self-discovery journey for every expectant mom.
Loving the Pregnant You is available on Amazon in paperback and on Kindle.
"Pregnancy is an incredibly important time of a woman's life. It's easy to feel like you've got to be 'perfect' and do everything 'exactly right' during those nine months. As an expectant mom, you can feel significant pressure from others, from the resources you consult, and even from yourself." explains the author.
Loving the Pregnant You teaches readers how to release that pressure and create their best experience. As Riley says, it is "your guide to creating YOUR pregnancy YOUR way. So, no matter what happens on a given day, you love the pregnant you."
"Presents an empowering way to approach your pregnancy… a great resource for new moms or moms with children who want to rethink how they see themselves and intentionally consider how to have an enjoyable pregnancy."

ROBBYE D. MCNAIR, MD, Obstetrics Gynecology, Northwestern Memorial Hospital
"Great, easy read — incredibly informative and well-written. Amy Riley quickly gets at the heart of what a pregnant woman experiences."

JILL SALZMAN, Founder of The Founding Moms and Author of Found It: A Field Guide for Mom Entrepreneurs
"I recommend this book to all of my HypnoBirthing and birth doula clients."

ROBIN ROSS, Certified Birth Doula, Certified HypnoBirthing Instructor, Trained Lactation Educator, Founding Partner of Bellies to Babies