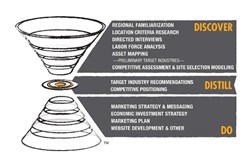 "Any region or community that is not completely clear on its business case advantages and disadvantages has a significant handicap to overcome," said Paul Hampton, Executive Vice President, Ady Voltedge
Madison, WI (PRWEB) August 09, 2013
The economy is getting better. Looking at the numbers might give a mixed story, but listening to the companies who are relocating and expanding and the economic development organizations that are trying to recruit them tells a story of growth. These two audiences – relocating and expanding companies and the economic development organizations that are trying to recruit them – are those we at Ady Voltedge work with every day.
One of the big trends we've seen is the resurgence of projects based on access to talent or access to customers/suppliers, as opposed to those purely pursuing cost savings.
"Over the last three to four years, a lot of the corporate location projects focused on consolidation and cost cutting. There was a great deal of uncertainty about the economy, and even those companies with money in the bank were acting conservatively with regard to how to deploy corporate real estate and human resources," said Janet Ady, President / CEO, Ady Voltedge.
Although Ady Voltedge did not participate in these projects, take as examples, the reasoning behind the following relocations and expansions that have recently been reported in the business press:
In late March, as reported by Crain's Chicago Business, officials from Coeur d'Alene Mines Corporation announced that Coeur will move its corporate headquarters to downtown Chicago. Coeur is currently headquartered in Coeur d'Alene, Idaho, the company's home since 1985, and employs nearly 2,000 people worldwide. The company expects to complete the move to Chicago in the third quarter of 2013 and to hire at least 60 employees at its downtown headquarters by the end of 2014.
In the March 21, 2013 issue of CNN Money Novartis CEO Joe Jimenez describes his company's approach to growth. In particular, he says, "We have built research centers where the scientists are. We have not asked them to come to a particular location…So we are going where the talent is. That's number one."
In early May, in an article in USA Today, Hertz announced it is moving its new world headquarters from New Jersey to Florida. Hertz CEO Mark Frissora attributed the decision to Southwest Florida's workforce, prospects for growth, and likelihood of getting talented workers from other regions of the world to relocate there.
Corporations and their investment drivers are one side of the equation. Economic developers, those individuals representing regions and states, are the others.
"Today's best economic developers are laser-focused on those industries and specific companies that are the best fit for their locations," said Ady. "We help clients gain this understanding through Target Industry Analyses. It might just as well be called 'Reverse Site Selection,' because what we do is apply the same principles we use in our site selection process to identify the types of projects in which their region is or could be a viable competitor."
There is no excuse for any community, region, or state to try to be everything to everyone. Thousands of economic development organizations, representing each state as well as the more than 3,000 counties and parishes in our country, are competing for the jobs and investment that relocating and expanding companies can bring.
Paul Hampton, executive vice president of Ady Voltedge, who heads up the firm's site selection practice said, "Any region or community that is not completely clear on its business case advantages and disadvantages has a significant handicap to overcome. Those who do know their advantages and disadvantages, and what industries are best-suited to them, have the upper hand."
To see what is involved in an Ady Voltedge target industry analysis, we invite you to click here and download Target Industries: A Key Element in your Economic Development Strategy or call Janet Ady at (608) 663-9218.
______________________________________________________________________________
About Ady Voltedge:
Ady Voltedge serves two distinct but complementary audiences. We provide economic development organizations (EDOs) with strategy, positioning, branding and related marketing implementation services. We provide expanding and relocating companies with location strategy services, from workplace and workflow strategy through site selection, real estate and portfolio optimization, and project management.
Our client and service mix is intentional and benefits both our EDO clients and our corporate clients. Our work with corporate clients helps ensure that our recommendations to EDOs for retaining, expanding and attracting businesses are practical and effective. Our work with EDOs helps ensure that our knowledge of locational assets is current and in-depth. Connect: http://adyvoltedge.com, http://adyvoltedge.com/blog/, LinkedIn or on Twitter @AdyVoltedge.