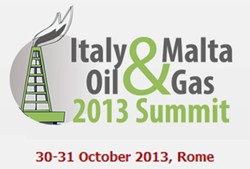 It's an IRN Summit!
Rome (PRWEB UK) 9 August 2013
Global summits organiser, IRN, is delighted to announce that Hon. Joe Mizzi, the Minister for Transport and Infrastructure of Malta; Hon. Dr. Konrad Mizzi, the Minister for Energy and the Conservation of Water of Malta; Hon. Dr. Christian Cardona, the Minister for the Economy, Investment and Small Business of Malta and Dr. Albert Caruana, Director General, Continental Shelf Department Ministry for Transport and Infrastructure of Malta, will be joining the Italy and Malta Oil & Gas 2013 Summit, on 30th-31st October in Rome to deliver Keynote speeches.
The Summit will bring together Governmental Officials from both Italy and Malta, along with oil and gas companies that are already active in the exploration and production of the region to discuss the real potential of hydrocarbon basins from the Adriatic to the Mediterranean Sea.
Although Malta is a modestly populated country in Europe, it is ideally situated in the waters between Italy and Libya, lying upon vast natural resources. The new Government pledged to boost exploration efforts as a part of a bigger energy plan. In addition to oil projects, the Ministry of Energy will focus on opportunities that Malta may offer to the gas supply chain in the Mediterranean region.
With regards to Italy, since the 19th century, the country has been an active oil and gas producer and now its biggest international oil company, ENI Spa, is planning to double production by raising Italy's output to almost 200,000 barrels a day, which would make Italy Europe's third-largest oil producer.
The Italy and Malta Oil & Gas 2013 Summit will be exploring the oil and gas prospects in both countries with experts from ENI, Enel, Petroceltic, Edison, Northern Petroleum and DEPA joining the Ministers on the speaker faculty to highlight their expertise on operating in the region.
More information can be found on the website below.