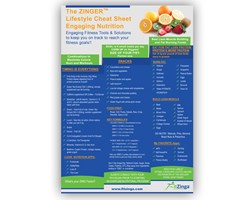 West Creek, NJ (PRWEB) August 07, 2013
FitZinga LLC announced today the launch of a premier health coaching and consulting company that provides engaging tools and solutions for Individuals, Fitness Centers, and Corporations to keep people on track to reach their fitness goals.
FitZinga - Get Your Zing On! flagship product, The ZINGER, is a lifestyle cheat sheet to keep individuals engaged. The ZINGER is available in several deliverables to keep you engaged and on track any time of day. It is also customizable.
Engagement is key to staying on track to reach your fitness goals. How engaged and what tools and solutions are best for you is unique to you. Engagement never diminishes over time it just changes, we all need to be engaged. The ZING factor is one of the tools in determining how engaged you need to be and those tools and solutions that are best for you. Fitness and nutrition is not a "one-size fits all" industry. Susan DiGiaimo, Founder and CEO stated - "We are very excited to provide a unique, customized approach to helping people reach their fitness goals, these are simplistic tools yet extremely empowering"
FitZinga also offers a unique Kids Fitness Program, called KidZanity. KidZanity is an engaging Kids Fitness Program for both boys and girls, focusing on three things: building self-confidence, strength, and character. KidZanity is quickly picking up momentum with a proprietary curriculum, fun engaging exercise, and various self-confidence building activities for Kids ages 5-15.
Media Contact: Susan DiGiaimo, CEO & Founder
Phone: 609.207.8104
sdigiaimo(at)fitzinga(dot)com