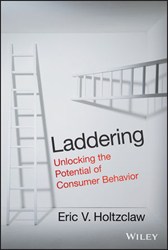 A large part of the population, especially more tech-savvy segments of the population, are okay with companies tracking data about them. In fact, they expect it. - Eric Holtzclaw, founder and CEO of Laddering Works
Hoboken, NJ (PRWEB) August 12, 2013
As the federal government addresses the fallout from its secret phone and Internet surveillance programs, countless American companies conduct similar data gathering without a peep of protest from their customers. How can corporations get away with tracking the American people while the National Security Agency cannot? The difference, according to marketing and consumer-engagement expert Eric V. Holtzclaw, author of the new book Laddering: Unlocking the Potential of Consumer Behavior, is that consumers want companies to use the data being collected to create better products, services and experiences.
"A large part of the population, especially more tech-savvy segments of the population, are okay with companies tracking data about them. In fact, they expect it," said Holtzclaw, the founder and CEO of Laddering Works, a leading marketing strategy firm. "What consumers are not okay with is when they don't fully understand how the information is going to be used or if they feel the data is not being used for their specific benefit."
In Laddering, Holtzclaw draws on insights from his 20-year career to thoughtfully analyze what marketing techniques actually work in a relationship-driven age where consumers expect products and services to be tailored to their individual needs and wants. Whether they acknowledge it openly or not, consumers are eager to connect with brands, including allowing companies virtually unfettered access to their mouse-clicks, browser histories and status updates in exchange for products and services that are more personalized. The challenge for companies is collecting and analyzing data in transparent ways.
Holtzclaw's profound insights on marketing in the digital age have been put to use by some of the world's largest companies, including Microsoft, Coca-Cola, Yahoo!, UPS, CNN, GE and Staples. In Laddering, Holtzclaw explains how the power of consumer discovery has led these companies and many others to marketing success. Gone are the days when marketers could tell the consumer what he or she wants. Now, through the Internet and social media, the consumer controls the process.
In today's environment, businesses must meet consumers where they are and unlock their unique "DNA markers"—the aspects of their personalities and situations that drive their decisions.
Laddering is filled with real-life examples of businesses whose success or failure ultimately hinged on their use of these techniques. Companies like Amazon, Trader Joe's, Old Spice, Apple and Zappos have been widely successful in their marketing techniques because they seek out consumers where they are, offer individualized service and establish relationships with them. These businesses know who they are: they know what they offer, what they are good at and how consumers view them. On the other hand, many companies struggle and ultimately fail because they do not take the consumer relationship into account.
"The goal of the techniques I propose in this book – and practice in my work – is to accept and understand people for who they are, at whatever stage, personal or professional, they happen to be," writes Holtzclaw. "I aim to understand how to talk to them at this core level in order to create a brand, experience or service that meets their unique needs."
In Laddering, Holtzclaw lays out the ground rules for businesses to get to know their customers to create a brand or service that meets their core needs. Laddering is a learning process that allows marketers to figure out what the consumer wants by building a relationship with them. The purpose is to discover not just what people do, but why they do it. Modern consumers want a personalized experience to meet them where they are. "In this new world," says Holtzclaw, "marketing and product development need to understand the consumer better than the consumer understands themselves."
"Laddering" provides businesses with the tools and insights they need to do just that.
About Eric Holtzclaw:
Laddering Works Founder and CEO Eric Holtzclaw is a sought-after expert on consumer behavior and entrepreneurship. He has contributed to TIME Business & Money regarding consumer trends and employment patterns, and is the co-host of a weekly radio show, "The 'Better You' Project," which shines a spotlight on entrepreneurs' business journeys. His weekly Inc. column, Lean Forward, focuses on the future of business and technology. Holtzclaw spent the last decade running a research firm that specializes in unlocking product and service potential for Fortune 500 and other companies.
For more information visit, http://about.me/eholtzclaw