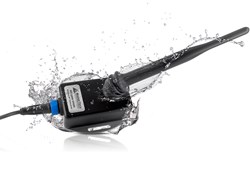 Warner, NH (PRWEB) August 01, 2013
The RFC1000-IP69K can be used as a transceiver or repeater, is designed to communicate between MadgeTech's two-way wireless data loggers and the MadgeTech software, with the ability to connect a maximum amount of 64 loggers. This model comes equipped with a high powered transceiver with an IP69K ingress protection rating. This product has an external antenna which is protected by a neoprene boot allowing for a diversified amount of flexibility when mounting in both orientation and proximity to metal walls. This rugged design works well in occulted environments like ovens and refrigerators. The range of the receiver is substantial; 4000ft. in a typical outdoor/line of sight and 2000ft. indoors/urban settings when transmitting to other RFC1000IP69K's.
The many applications of the RFC1000-IP69K include Food & Meat Cooking, Cooling, Smoke Houses, Medical Storage, Laboratory Monitoring, Blood Banks, Hospitals, Warehouses and more!
Through the use of the MadgeTech software, the RFC1000-IP69K is able to remotely start, stop and download information wirelessly. Allowing for the process of data collection to be streamlined (additional MadgeTech wireless loggers and transceivers are required.) The RFC1000-IP69K utilizes the new MadgeTech software, version 4.0. This is available to download free from http://www.madgetech.com. It is a powerful, analytic tool where data can be viewed in a graphical or tabular format. Summary and statistic views are also available for further analysis. The software features the ability to export to Excel®, data annotation, digital calibration and more. The RFC1000-IP69K is priced at $299.00 USD. For more information please visit http://www.madgetech.com or call (603) 456-2011.