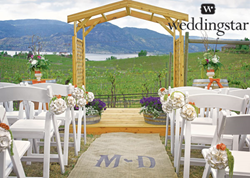 Nothing makes wedding planning any easier than that!
Dunmore, AB (PRWEB) August 08, 2013
With expertise that has been nourished with over 30 years in the wedding business, it's no wonder that Weddingstar has the reputation for "Putting the Wow" in weddings. With a talented and dedicated in-house design staff, Weddingstar continually brings forth new and innovative wedding décor and accessories that perfectly fit the modern day bride and groom. With a vision second to none, Weddingstar has become one of the top go-to retailers for everything modern, bespoke and capable of creating a dream wedding. With today's couples even more set on creating the wedding they've always daydreamed about, it has become Weddingstar's job to show how to create such fanciful designs – and they've risen to meet the challenge with their newest inspirational manuals, the Weddingstar Style Lookbooks. Covering everything from invitations to thank you cards and aisle runners to favors, Weddingstar helps couple's envision what their perfect day can look like. With constantly evolving options, colors and designs Weddingstar has assured their spot as wedding aficionados with their newest release, Vineyard.
Playing a central theme in the design of the newest lookbook, Weddingstar has cast one of their greatest evolving product lines – their customizable aisle runners. A classic staple of the traditional wedding, Weddingstar has taken this common-place wedding accessory and transformed it into a bespoke wedding adornment by offering the personalization options they are renowned for. With couples able to make a one-of-a-kind aisle runner for their special day by choosing from customization options that span material, color and design choice, they can ensure that their wedding accessories are unique and also fit into their wedding perfectly. Plus, not only is each custom aisle runner an effortlessly addition into any couples idea of the perfect wedding, but with designs that flow within a larger collection of wedding décor and accessories on many of Weddingstar's aisle runners, they make it simple to keep a theme or color palette running throughout a couple's entire wedding. And, nothing makes wedding planning any easier than that!
In the Vineyard Lookbook, couples can take a walk through the fragrant orchard of a winery as they see how to easily theme an entire wedding day from start to finish with the simple use of a collection of products. Within the pages of Vineyard, a burlap aisle runner serenely leads the way to the altar with a purple hued Vineyard Monogram emblazoned upon it. If the Vineyard doesn't tickle your fancy, then see how an aisle can be transformed by the words of a French love poem which are inscribed on the Parisian Love Letter Aisle Runner, in the Parisian: Black and White Lookbook. Or, maybe you're still looking for that special "something blue" within the Blue Color Story Lookbook. Be inspired by the innovative use of aisle runners in each of three themed shoots to find the perfect piece for your wedding. No matter your theme, your colors or your venue, you're sure to find the perfect finishing touch for your ceremony with a custom aisle runner from Weddingstar.
Weddingstar Inc. is one of the world's leading designers, manufactures and retailers of wedding decorations and accessories. Dedicated to providing quality service to brides around the globe, Weddingstar ships to over 100 countries worldwide with distribution points in Europe, North America, Argentina, Australia and Russia. Featuring an ever-expanding selection of bridal accessories with over 3,000 different product offerings, Weddingstar is a one stop destination for every wedding need. With 30 years of experience in the wedding industry and having received numerous business awards, Weddingstar has earned a reputation as the source for 'Putting the Wow into Weddings.' For more information please visit http://www.weddingstar.com.
Aisle runners - http://www.weddingstar.com/ceremony-accessories/wedding-aisle-runner
Parisian Love Letter Aisle Runner - http://www.weddingstar.com/product/parisian-love-letter-personalized-aisle-runner