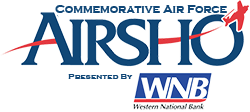 Midland/Odessa, TX (PRWEB) August 26, 2013
Warbirds invade West Texas for the 50th Annual Commemorative Air Force (CAF) AIRSHO presented by Western National Bank on Oct. 12-13. This milestone AIRSHO will feature Texas Flying Legends, a fantastic collection of warbirds, and some of today's best civilian aerobatic performers.
The CAF began the annual AIRSHO in 1963 at Rebel Field in Harlingen, Texas. Beginning with only nine planes in attendance, the CAF AIRSHO is now known as "The Best Warbird Show in America." Today, the CAF has 159 warbird aircraft in its fleet, many of which will be at the 2013 AIRSHO.
Each year, AIRSHO offers impressive displays of vintage military aircraft, popular civilian airshow performers, and a chance to get close to the aircraft or even take a flight!
This year's civilian acts are sure to please. Anyone attending will feel the heat blast as the Shockwave Jet Truck boasting three jet engines propels down the runway. A new act, sure to be a hit, is the World's smallest jet airplane, the FLS Microjet, which has been seen in the James Bond film, Octopussy. Other civilian acts include Jan Collmer's 300L and the Carbon Fiber Airshow.
Of course, AIRSHO is not complete without showcasing some of the CAF's most beloved aircraft and performers. The World's Only Flying B-29 Superfortress FIFI and the B-24 Liberator Diamond Lil along withTora Tora Tora's reenactment including pyrotechnics.
To celebrate the CAF's 50th ARSHO, a stunning fireworks display will take place on Saturday night immediately following the air acts.
Tickets can be purchased online at http://www.airsho.org or in the Midland-Odessa, Texas area at Western National Bank, Domino's Pizza and 7-Eleven stores.