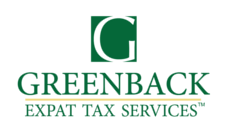 Amending an expat return may seem cumbersome but failing to do so when required can result in serious fines. The sooner the issue is corrected, the less you will pay in penalties and interest.
New York, NY (PRWEB) August 15, 2013
When Americans discover mistakes on their tax returns, the first reaction is often panic. But the IRS allows every American taxpayer the opportunity to correct errors on tax returns.
"It is natural to worry when you realize you have made a mistake on your taxes but there are safeguards in the tax system to help you correct them," said David McKeegan, President of Greenback Expat Tax Services. "Americans living abroad file taxes the same way residents do, so they have the same opportunity and obligation to amend their return if necessary."
Mr. McKeegan notes that not all errors require an amendment to be filed. Mathematical errors and omissions of income that were already reported to the IRS will likely be flagged in the system and brought to the taxpayer's attention. Simple address changes or other non-financial changes do not need to be amended.
Failing to claim deductions or credits for which you are eligible, or income that was not reported to you (via a 1099, K-1, W-2, etc.) will require an amendment. Form 1040X, Amended U.S. Individual Tax Return should be filed, regardless of whether the error is in your favor. If there is a balance due, penalties and interest accrue quickly so the faster you file, the more you will save.
In addition, one of the most important expat tax forms is the FBAR, a Report of Foreign Bank and Financial Account. If a US citizen has financial interest in or signature authority over any financial accounts in a foreign country and the aggregate value of the accounts exceeds $10,000, Form TD F 90-22.1 must be filed. The deadline for FBAR filing is June 30 and no extensions are given.
"If you are required to file FBAR and you missed the deadline or need to amend your filing due to an error, time is of the essence," warns Mr. McKeegan. "Penalties for failing to file an FBAR can be steep and immediately amending or filing voluntarily could save you thousands of dollars."
More About Greenback Expat Tax Services
Greenback Expat Tax Services specializes in the preparation of US expat taxes for Americans living abroad. Greenback offers straightforward pricing, a simple, hassle-free process and CPAs and EAs who have extensive experience in the field of expat tax preparation. For more information about filing an amended return or other issues related to US expat taxes, please email Greenback Expat Tax Services at info(at)greenbacktaxservices(dot)com. You can also visit us at http://www.greenbacktaxservices.com.
# # #