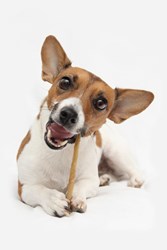 Bully Sticks have surpassed rawhides as the number one dog chew.
New York, NY (PRWEB) August 21, 2013
Bully Sticks have quickly climbed to the top spot among dog chews. They are made from bull penises and are usually sourced from free range grass fed cattle in South America. They are a favorite among dog and dog owners alike as they are fully digestible and help to clean teeth when chewed upon.
Bully Sticks are about 23 calories per inch and provide dogs with vitamins and minerals such as calcium and magnesium. They have overtaken rawhides as the # 1 dog chew because they are fully digestible and are not treated with chemicals. The Bully Sticks that Organic Pet Boutique carries are dried in the oven and then cut down to size. Organic Pet Boutique only sources 100% natural and organic bully sticks with no added chemicals or preservatives.
Organic Pet Boutique even carries a Bully Mat which holds the bully stick in place while your dog chews. The clamps on the mat hold the last piece of the bully stick so you have control over what your dog chews. Dogs love having something that will hold their chew for them and they enjoy having a special place to chew.
Bully Sticks are available in a large variety of shapes and sizes. There are starter bully sticks that are sliced in half for puppies and braided 12" sticks for the most aggressive chewers. Organic Pet Boutique offers packs of 30 or more for greater savings and ships orders of $49 or more for free with code freeship. You can call them at 888-443-9222 to find the correct size and shape for your dog.
Organic Pet Boutique was founded in 2009 and has grown to be the the leader in organic and natural dog products. They focus on Dog Harnesses, Dog Clothing and Dog Chews. For more information visit OrganicPetBoutique.com