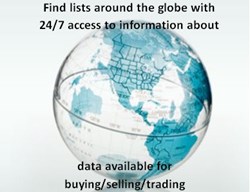 An invaluable tool for anyone involved with offline or online customer acquisition campaigns.
(PRWEB) August 07, 2013
Global Data Find (http://www.globaldatafind.com) is a single website that allows all companies or individuals around the globe, in multiple languages, to locate data (mailing lists) for marketing purposes and introduce owners of data to users of data. This is a no-charge online platform for finding and publishing mailing lists and sources of online consumer traffic.
What sets this apart from other directory services? Direct marketers can now connect directly to buyers, sellers and managers of consumer and business data. A data purchaser can be connected to a data vendor, then take over and negotiate the deal directly with the publisher.
There are four main components to Global Data Find that make this an attractive directory for any kind of direct response marketer.
1. Register: There is a simple no charge registration process to open an account with Global Data Find. Once the account is open, it is easy to publish lists and connect with media owners and managers directly.
2. Find: The goal of Global Data Find is to assist direct marketing professionals to find lists that are relevant to their customer acquisition strategies. Locate lists around the globe and filter for factors such as who is in the list and what they have purchased.
3. Publish: There is a simple process to advertise a list. Publishers must answer key and relevant questions to create a listing that details demographics and purchase information of the consumers or business that make up that particular list.
4. Connect: Any registered user of Global Data Find can simply request to "connect" to the publisher of a list of interest and will be sent an email containing the contact information of that publisher. Registered users will also get email alerts of new lists.
This is an exciting platform, because no service provider or marketing company has ever tried to work the global market in multiple languages and bring companies and people together in this manner.
Register now at http://www.globaldatafind.com/.