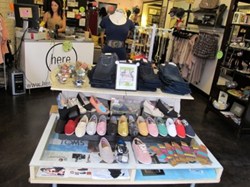 We are proud to help spread the shop local message through monthly, community-driven cash mobs.
Scottsdale, Arizona (PRWEB) August 08, 2013
Scott's Marketplace, the place to shop local businesses online, will be hosting monthly cash mobs at different local businesses throughout Arizona. Here on the Corner, a local business based in Tempe, AZ, will be the next recipient.
The cash mob will be held Thursday, August 29 from 5 p.m. to 8 p.m. and attendees are asked to spend $20 in merchandise or donation to Here on the Corner.
During the event, a $100 gift card to the store will be given away and post-cash mob food and drink specials will be featured at local restaurant, CASA Sunba.
Scott K. Curry, founder of Scott's Marketplace, stated, "By organizing monthly cash mobs, we will be able to highlight local businesses while reminding the community that shopping local is essential to small business survival."
Scott's Marketplace chose Here on the Corner because of owner Julie Kent's dedication to the shop local movement. In her store, Julie offers apparel, jewelry, and other merchandise from local designers, and believes strongly in using local suppliers for both her business and personal purchases.
Kent states, "My banking is local … my office supplies are local. Instead of going to Office Max, I get my paper from Wist, a local office supply company, as much as I can."
The decision to organize monthly cash mobs came after Scott's Marketplace successfully hosted their first cash mob for local business Dog-Eared Pages Used Books in March of 2013. The cash mob brought in a flood of customers and profit for the bookstore, which was in danger of closing in less than 30 days.
The bookstore is still open, which shows the vital role cash mobs can play in a business' livelihood -- and just how much the community desires to support the local businesses of Arizona.
"We're proud to help spread the shop local message through monthly, community-driven cash mobs and we're looking forward to a great turnout on August 29 for Here on the Corner," Curry said.
About Scott's Marketplace
Scott's Marketplace was started by small business owner Scott K. Curry, who had a vision of creating an online marketplace where local businesses could easily sell their products and consumers could shop online for local goods. Scott's Marketplace is launching in fall of 2013. To learn more, visit ScottsMarketplace.com or call Jill Hoffman at (480) 420-2700.
About Here on the Corner
For over eight years, Here on the Corner has been a staple of downtown Tempe, AZ and a favorite shopping destination of locals and students alike. ASU alumnus Julie Kent took over the store in 2011, and maintained a commitment to the local community by featuring clothing, accessories and footwear by local designers. Kent also introduced menswear to the boutique, and consistently hires ASU students in order to help train the next generation of small business entrepreneurs.