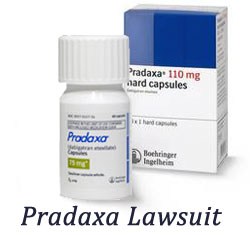 If you or someone you love has experienced Pradaxa bleeding or hemorrhaging due to Pradaxa visit yourlegalhelp.com, or call 1-800-399-0795 to find out about Pradaxa lawsuits
Columbus, OH (PRWEB) August 13, 2013
The Pradaxa lawsuit lawyers at Wright & Schulte LLC, an experienced law firm representing the victims of defective drugs, are disturbed by a new study which found that patients who use Pradaxa or other new blood thinners face a significantly higher risk of gastrointestinal bleeding compared to other treatments. The Pradaxa bleeding research, which was published in the journal Gastroenterology last month, analyzed data from 43 published studies involving 151,578 patients who were either treated with Pradaxa or another new blood thinner, or standard care. Overall, patients taking the new drugs, including Pradaxa, faced a 55% increased risk of experiencing gastrointestinal bleeding. The risk was higher among patients treated for venous thrombosis and acute coronary syndrome.
[gastrojournal.org/article
/S0016-5085%2813%2900290-4/fulltext,
Gastroenterology, July, 2013]
Wright & Schulte LLC is already representing plaintiffs in Pradaxa lawsuits, and continues to offer free legal consultations to alleged victims of Pradaxa bleeding side effects, including:

Serious internal bleeding
Intercranial brain bleeding
Stomach and intestinal bleeding
Kidneys and other organs bleeding
Irreversible life threatening bleeding events
Stroke
Heart attack
Severe allergic reaction
Death
For more information on filing a Pradaxa lawsuit, or to arrange for a free legal consultation, please visit yourlegalhelp.com.
Pradaxa was approved in October 2010 to prevent stroke in people with atrial fibrillation. While concerns have mounted over the danger of Pradaxa bleeding side effects, the U.S. Food & Drug Administration (FDA) continues to maintain that the drug is as safe as warfarin, a blood thinner that has been in use for decades. However, warfarin bleeding can be stopped with the administration of vitamin K, while there is currently no easy method to stop Pradaxa bleeding. In fact, the Institute for Safe Medication Practices (ISMP) warned in January that Pradaxa patients may be nearly 5 times as likely to die when they experience internal bleeding compared to those treated with warfarin. Among other things, the ISMP pointed to the lack of an antidote for Pradaxa bleeding as contributing to the increased risk of death associated with the drug.
[fda.gov/Drugs/DrugSafety/ucm326580.htm; FDA, November 2, 2012]
[ismp.org/quarterwatch/pdfs/2012Q2.pdf, ISMP, January 13, 2013]
Court records indicate that 1,363 Pradaxa bleeding lawsuits are currently pending in a federal multidistrict litigation underway in U.S. District Court, Southern District of Illinois. The first trial in that litigation is expected to begin in August 2014. Plaintiffs in Pradaxa lawsuits claim that Boehringer Ingelheim failed to provide adequate warnings about the drug's risk, and failed to warn about the lack of an antidote for Pradaxa bleeding. (IN RE: Pradaxa Product Liability Litigation, U.S. District Court, Southern District of Illinois, MDL No. 2385)
About Wright & Schulte LLC Wright & Schulte LLC, an experienced personal injury firm, is dedicated to the belief that America's legal system should work for the people. Every day, the attorneys of Wright & Schulte LLC stand up for the rights of people who have been injured or wronged and fight tirelessly to ensure that even the world's most powerful corporations take responsibility for their actions. If you're looking for a law firm that will guarantee the aggressive and personal representation you deserve, please do not hesitate to contact Wright & Schulte LLC today. Free Pradaxa lawsuit case evaluations are available through yourlegalhelp.com or by calling 1-800-399-0795.
Contact: Wright & Schulte LLC
812 East National Road
Vandalia, Ohio 45377
1-800-399-0795
http://www.yourlegalhelp.com