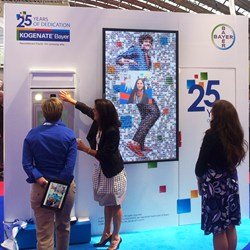 What separates this from any other interactive solution is that the photo mosaic is built in true real-time, an industry first.
Blue Bell, PA (PRWEB) August 01, 2013
The designers and engineers at Picture Mosaics continue to show their dedication to pushing the photo mosaic concept further with each new innovation. The new Real-Time Interactive Streaming Photo Mosaic Platform 3.0 utilizes the company's advanced mosaic software to create an engaging activation, giving visitors the unique experience of being part of a live mosaic.
Picture Mosaics partnered with Bayer, a leading pharmaceutical company, to give the XXIV Congress of the International Society on Thrombosis and Haemostasis (ISTH) a more exciting and interactive atmosphere. The eye-catching display proved to be an alluring aspect of the booth as guests and vendors alike were eager to leave their mark by participating in the photo mosaic experience. Suited for events, trade shows, and conferences, this format is perfect for uniting fans and visitors alike; guests are able to have their photo taken on the spot and watch as it's added to the live photo mosaic, right before their eyes.
Additionally, submissions are not limited solely to event participants; photos can be added to the mosaic via a number of online and mobile outlets such as Facebook, Instagram, Twitter hashtags, and smartphones. The mosaic can also be viewed from any HTML5 compatible web browser, giving the audience the opportunity to view the photo mosaic from anywhere as it's updated in real-time. Individual photos will zoom in at random, allowing each photo to be seen in detail by viewers. Also, with the capability of supporting thousands of photos, all attendees are given the opportunity to be part of the experience.
In an interview concerning recent developments, president of Picture Mosaics, Al Charpentier explained, "The Real-Time Interactive Mosaic Platform 3.0 puts a new spin on the photo mosaic process, bringing people together in one artistic, interactive piece. What separates this from any other solution is that it's built in true real-time, an industry first." Picture Mosaics has provided these fan-driven mosaics for numerous organizations like Nestle, Tyco, Qliktech, and Dr. Pepper to name a few. Reaching their third year working with Bayer, this activation has proven to be an invaluable tool. Other interactive, streaming mosaics can be found on Picture Mosaics' photo mosaic event page.
Picture Mosaics' mission statement: To provide clients with an industry-leading solution capable of creating the highest quality photo mosaics across print and multimedia. In their efforts to reach this goal, they have continually engineered the most sophisticated software and design techniques, giving their artists the ability to create photo mosaics unparalleled in both technical and artistic aspects. With each new endeavor, they strive to achieve the "wow" factor that comes with a truly inspirational work of art. Picture Mosaics believes the creation of a photo mosaic to be a genuine art form, not just the product of a mathematical equation. With projects ranging from a small scale masterpiece, an eye-catching mural, a striking inMotion video mosaic, or even an interactive online digital mosaic experience, Picture Mosaics is capable going above and beyond your expectations.
Important note: The information in this article was supplied by Picture Mosaics to provide new insight into their Real-time Interactive Streaming Photo Mosaic Platform 3.0.