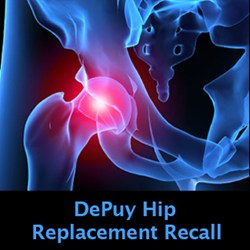 If you or someone you love were injured by a DePuy Hip Recall device, please visit yourlegalhelp.com, or call toll-FREE 1-800-399-0795
Columbus, OH (PRWEB) August 05, 2013
The Food and Drug Administration (FDA) has recently announced that DePuy Orthopaedics, Inc. has issued an Urgent Medical Device Recall for one of its popular hip implant components, the LPS Lower Extremity Dovetail Intercalary component. This DePuy recall has been issued due to the component's propensity to fracture. While DePuy issued its recall of this component on July 11, 2013, as of August 1, 2013, the FDA elevated this DePuy recall to a Class I recall status – the most serious type of recall that can be issued – due to the likelihood of alleged serious injury or death associated with these malfunctioning DePuy hip implant components.
According to the FDA's DePuy recall announcement, the recalled LPS hip implant component can fracture under "normal physiologic loads while walking." This means that it does not take a lot of weight on these components in order to increase the likelihood that they will break. Patients with the highest risk of experiencing an LPS hip implant fracture include those who weigh more than 200 pounds and/or who are highly active individuals.
In the event that the LPS Lower Extremity Dovetail Intercalary component does fracture, patients will likely experience severe hip pain and immediate loss of hip function. In most cases of the component fracturing, patients will need to undergo risky revision surgery to remove the broken component. Additionally, patients who experience a component fracture will typically also suffer from serious nerve injuries and may even lose the leg connected to the fractured device.
[fda.gov/Safety/MedWatch/SafetyInformation/SafetyAlertsforHumanMedicalProducts/ucm363505.htm August 2013]
Wright & Schulte, LLC is an experienced product liability law firmv defending the rights of those who have sustained serious injuries after using defective products. We encourage those who believe they have sustained DePuy hip implant complications to speak with our knowledgeable lawyers by visiting yourlegalhelp.com or by calling 1-800-399-0795.
As part of this DePuy hip implant recall, DePuy is providing medical professionals with a template letter to help them notify their patients who may be at risk of a component fracture, as well as to inform patients about the possible signs that a component fracture has taken place. Additionally, medical professionals and distributors have been warned to immediately stop using the recalled lots of the LPS components, which include 130896, 132131, 132133, 209461, 209466, 219843, 232972, 295965, 310189, 336843, 349283, 352878, 374125, 379089, A1TAR1 and A2AGN1. While DePuy has not recommended revision surgery or extensive follow-up medical care for patients who are not displaying symptoms of a possible component fracture, for those who are, DePuy recommends immediate medical care to prevent patients from developing potentially life-threatening complications.
[fda.gov/MedicalDevices/Safety/ListofRecalls/ucm363452.htm August 2013]
This is not the first DePuy Hip recall. In August 2010, DePuy voluntarily recalled its Metal-On-Metal ASR hip implants due to reports from the National Joint Registry of England and Wales that these devices had a failure rate of about 13 percent within five years of the DePuy Hip implantation. In 2011, however, this registry updated its findings on DePuy ASR hip implants, warning the public that more than 33 percent of DePuy ASR hip implants would fail within five years of implantation. [nytimes.com/2013/01/23/business/jj-study-suggested-hip-device-could-fail-in-thousands-more.html?_r=1& January 2013]
About Wright & Schulte LLC
Wright & Schulte LLC, an experienced personal injury firm, is dedicated to the belief that America's legal system should work for the people. Every day, the attorneys of Wright & Schulte LLC stand up for the rights of people who have been injured or wronged and fight tirelessly to ensure that even the world's most powerful corporations take responsibility for their actions. If you're looking for a law firm that will guarantee the aggressive and personal representation you deserve, please do not hesitate to contact Wright & Schulte LLC today. Free case evaluations are available through yourlegalhelp.com or by calling 1-800-399-0795.
Contact:
Wright & Schulte LLC
812 East National Road
Vandalia, Ohio 45377
1-800-399-0795
http://www.yourlegalhelp.com