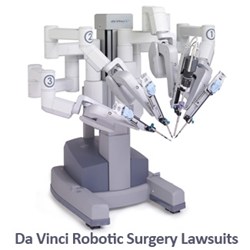 If you or a loved one has been injured by a Da Vinci Robot Surgery contact Wright & Schulte LLC, a leading medical device injury law firm today at 1-888-365-2602 or visit www.yourlegalhelp.com
Columbus, OH (PRWEB) August 05, 2013
Da Vinci Robot Lawsuit Lawyers at Wright & Schulte LLC, an experienced personal injury law firm, note that Intuitive Surgical Inc. recently disclosed in a regulatory filing that it has been named in 33 Da Vinci robot lawsuits over its Da Vinci Surgical System. According to the company, all of the claims were filed on behalf of robot surgery patients who allegedly suffered serious Da Vinci robot complications, including death, due to defects in the machine and/or Intuitive Surgical's failure to provide proper training to surgeons who use the Da Vinci Surgical System.
[sec.gov/Archives/edgar/data/1035267
/000119312513297410/d551118d10q.htm; SEC, July 22, 2013]
Wright & Schulte LLC is now offering free personal injury lawsuit consultations to victims of alleged Da Vinci surgical robot complications, including those who suffered:

Tears and/or burns of the intestines
Punctured blood vessels
Punctured and/or cut ureters
Severe bowel injuries
Vaginal cuff dehiscence
Excessive bleeding
Surgical burns
Sepsis
Peritonitis
Death
For more information on filing a Da Vinci robot lawsuit, or to arrange for a free legal consultation, please visit yourlegalhelp.com.
In addition to the 33 Da Vinci robot lawsuits now pending in state and federal court, Intuitive Surgical's regulatory filing also disclosed that it had entered into tolling agreements in some additional claims that extend the statute of limitations for three to six months. In exchange, plaintiffs have agreed to file their claims in "certain agreed upon venues" should they ultimately proceed with a Da Vinci robot lawsuit. "The tolling agreements provide the parties and their legal counsel with additional time to evaluate the claims, to explore whether the claims have merit and whether they can be resolved without litigation," the filing stated.
According to Wright & Schulte LLC, the mounting litigation is just one of several recent developments that have raised questions about the safety and efficacy of the Da Vinci robot. On July 16, the U.S. Food & Drug Administration (FDA) issued Intuitive Surgical a warning letter after an inspection of its headquarters in Sunnyvale, California, revealed several problems in need of correction, according to a report from Bloomberg.com. Among other things, the FDA voiced concerns with Intuitive's process for reporting device corrections and adverse events.
[bloomberg.com/news/2013-07-18/intuitive-surgical-declines-on-warning-letter-from-fda.html, Bloomberg, July 18th, 2013]
According to an earlier Bloomberg.com report, the Da Vinci robot has been associated with a growing number of a number of adverse event reports that detail possible Da Vinci surgery robot injuries, including some 70 deaths since 2009. Those reports have prompted the U.S. Food & Drug Administration to begin surveying doctors about the types of Da Vinci robot complications they may have observed in robotic surgery procedures.
[bloomberg.com/news/2013-02-28/intuitive-surgical-robots-probed-by-u-s-in-survey-of-surgeons.html; Bloomberg.com, February 28, 2013]
About Wright & Schulte LLC
Wright & Schulte LLC, an experienced personal injury firm, is dedicated to the belief that America's legal system should work for the people. Every day, the attorneys of Wright & Schulte LLC stand up for the rights of people who have been injured or wronged and fight tirelessly to ensure that even the world's most powerful corporations take responsibility for their actions. If you're looking for a law firm that will guarantee the aggressive and personal representation you deserve, please do not hesitate to contact Wright & Schulte LLC today. Free case evaluations are available through yourlegalhelp.com or by calling 1-800-399-0795.
Contact:
Wright & Schulte LLC
812 East National Road
Vandalia, Ohio 45377
1-800-399-0795
http://www.yourlegalhelp.com