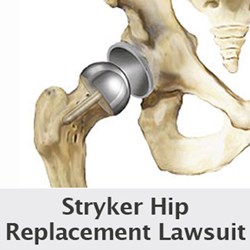 If you or someone you love were injured by Stryker Hip replacement recall, please visit yourlegalhelp.com, or call toll-FREE 1-800-399-0795
Columbus, OH (PRWEB) August 04, 2013
Recent Stryker Hip Lawsuit orders issued by the Honorable Brian R. Martinotti, J.S.C. of the Bergen County Superior Court in New Jersey continue to push forward the more than 270 Stryker hip lawsuits filed as part of the Stryker Multicounty Litigation (MCL) being overseen by this court (In re Stryker Rejuvenate Hip Stem and the ABG II Modular Hip Stem Litigation, No. 296). [judiciary.state.nj.us/mass-tort/abgstryker
/caselist.pdf July 2013]
These recent case orders, which were issued on July 23 and July 26, 2013, respectively, pertain to discovery and case management issues affecting these Stryker Hip lawsuits. Specifically, the case orders lay out guidelines for deposing plaintiffs in these cases and for selecting cases for mediation. Additionally, these case orders stipulate that the next Case Management Conference for the New Jersey Stryker MCL will be on August 13, 2013 at 10:30am. [judiciary.state.nj.us/mass-tort/abgstryker
/orders_decisions.htm 2013]
Wright & Schulte, LLC is experienced in defending the rights of those who have sustained serious injuries after using defective medical devices and dangerous drugs. Our skilled Stryker Hip lawsuit lawyers are experienced at successfully going up against large corporations. We encourage those who believe they have sustained Stryker hip injuries and complications to speak with our knowledgeable lawyers by visiting yourlegalhelp.com or by calling 1-800-399-0795.
The Stryker Hip lawsuits involved in the New Jersey MCL all allege that the defective design of Stryker's recalled Rejuvenate and ABG II Hip Stem caused the plaintiffs to sustain severe injuries. Additionally, these cases contend that Stryker knew or should have known about the serious risks associated with its Rejuvenate and ABG II Hip Stem implants and that the manufacturer should have warned the public about these risks well before issuing a national recall on these devices in July 2012.
Some of the specific injuries and complications that the plaintiffs in these Stryker hip implant lawsuits allege to have developed include metallosis, early failure of the hip implant, damage to the bones and tissues surrounding the implant and the need for risky corrective surgery to remove defective Stryker hip implants.
[[2013
2012 Stryker Hip Recall on the Rejuvenate and ABG II Hip Stem
On July 6, 2012, Stryker announced that it was voluntarily recalling its Rejuvenate and ABG II modular-neck stems due to the possibility of these devices corroding, failing earlier than they should and/or causing patients to develop metallosis. Metallosis is a condition in which chromium and other metal ions build up in the blood stream and, as a result, can cause severe complications. According to Stuart Simpson, Stryker's Vice President and General Manager at the time of the recall, "while modular-neck stems provide surgeons with an option to correct certain aspects of a patient's anatomy and hip biomechanics, given the potential risks associated with fretting and corrosion at the modular neck junction, Stryker Orthopaedics decided to take this voluntary action." [fda.gov/safety/recalls/ucm311043.htm July 2013]
About Wright & Schulte LLC
Wright & Schulte LLC, an experienced personal injury firm, is dedicated to the belief that America's legal system should work for the people. Every day, the attorneys of Wright & Schulte LLC stand up for the rights of people who have been injured or wronged and fight tirelessly to ensure that even the world's most powerful corporations take responsibility for their actions. If you're looking for a law firm that will guarantee the aggressive and personal representation you deserve, please do not hesitate to contact Wright & Schulte LLC today. Free case evaluations are available through yourlegalhelp.com or by calling 1-800-399-0795.
Contact:
Wright & Schulte LLC
812 East National Road
Vandalia, Ohio 45377
1-800-399-0795
http://www.yourlegalhelp.com