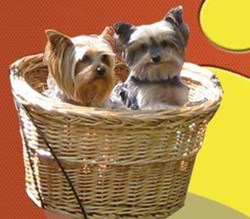 Always follow up with your airline of choice to confirm current information
Issaquah, Washington (PRWEB) August 01, 2013
What if a handy list of pet airline travel tips were available in one place? That is exactly what MySmallDog.com, which began as a travel blog for a Yorkshire Terrier named Spencer by his owner, seeks to help provide. This smart little Dog Travel Guide gives a list of exactly what to expect when flying with your pet with his No Stress Travel Tips.
"If you have no choice but to fly, then prepare early," said Dr. Melissa Finke, of TVV Decatur, in a recent article on The Village Vets. "The regulations are strict and vary significantly between airlines." Dr. Finke pointed out most airlines will allow pets to fly with their owners in the cabin dependent on their size and weight, and if this option is not available to invest in an approved crate that can be slowly introduced before the flight.
The owner of Spencer, at MySmallDog.com based in Issaquah, Washington, says that pet owners should "always follow up with your airline of choice to confirm current information." They added that gear is also important to prepare before making the big trip. "These items are essential when traveling with your pet," Spencer's owner said. "There are items to take with you such as a collapsible water dish, treats, a collar and leash, flea and tick medicine, and wee wee pads." The airline travel tips will help anyone who is flying with a pet within the United States and abroad.
My Small Dog is an Issaquah, WA based blog which specializes in information and videos for small dog owners. Since the age of 8 Spencer the Yorkshire Terrier has been an expert in travel. The blog is recommended by bestselling author Glenn Plaskin and by The Dogington Post, an online news website for pets and their owners. My Small Dog provides helpful and entertaining articles and videos for small dog owners.
For more information on My Small Dog visit the website at mysmalldog.com or the Facebook Fan Page at
https://www.facebook.com/mysmalldog where he has over two thousand fans!