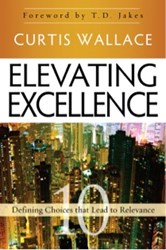 Every leader has to make choices. Some move the organization forward with great momentum and success. Unfortunately, wrong decisions have the ability to stagnate your organization and hold you back from achieving greatness
Shippensburg, Pa (PRWEB) August 20, 2013
Curtis Wallace, Chief Operating Officer of TD Jakes Enterprises, is set to release his new book, "Elevating Excellence," through Destiny Image.
Wallace delivers 10 practical keys that empower his readers to make the choices that set themselves and their organizations up for excellence. He reveals how to unlock the essential qualities that will take leadership and organizations to a whole new level.
"Every leader has to make choices. Some move the organization forward with great momentum and success. Unfortunately, wrong decisions have the ability to stagnate your organization and hold you back from achieving greatness," Wallace said.
Review copies are available upon request.
Wallace has successfully navigated both the corporate and faith worlds, currently serving as Chief Operations Officer/General Counsel for TD Jakes Enterprises, LLP, bringing the worlds of faith and business together for the mutual benefit of both. He also works closely with The Potter's House, founded by Bishop TD Jakes, and has served as the Producer or Executive in Charge of projects such as Woman Thou Art Loosed, Not Easily Broken, and Jumping the Broom. Prior to joining TDJ Enterprises, Wallace practiced law with firms like Weil, Gotshal & Manges and Brewer, Brewer, Anthony & Middlebrook. He also serves on the Board of Directors of BN Media Holdings and the Dallas County Blue Ribbon Commission for Parkland Hospital.
Destiny Image, located in Shippensburg, PA, was founded in 1983 by Pastor Don Nori, Sr. It seeks to accurately represent authors who have a call to share God's present word to His people and to make these authors easily accessible to the Christian body around the world in every form of media possible.
FOR PRESS INQUIRIES, INTERVIEWS AND REVIEW COPIES:
Kristen Adams
(717) 532-3040, Ext. 135
kadams(at)norimediagroup(dot)com