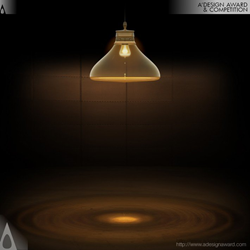 Como, Italy (PRWEB) August 01, 2013
A' Design Award and Competitions are encouraged to announce that the project Muse by Anarkhos Design has been granted the notable Golden A' Design Award at Lighting Products and Lighting Projects Design Category and elected as a winner by the esteemed judging committee of the A' Design Award & Competition among thousands of participants.
About Muse
The design of Muse consists of a luminaire that has a quantity of water that constantly evaporates and condenses within a contained vessel. The condensed droplets of water disturb the surface at regular intervals to alter the quality of light that fills the space. Inspired by 'Won Buddhism' in its saying that there are no absolute qualities in our universe. The spirit of meditation that it encourages was a powerful source in creation of this product; embodying the qualities of 'time', 'matter' and 'light' into a single design.
To learn more and download high-resolution photos, please visit: http://www.adesignaward.com/design.php?ID=26806
Creative Team for Muse
Muse was conceived by Kevin Lim, Jun Ho Park and Yo Sop Ryoo
The Golden A' Design Award
The Golden A' Design Award is a prestigious award given to top 3% percentile designs that has carried out an exemplary level of sublimity in design. The designs are judged by a panel of three different jury which is composed of Academic, Professional and Focus Group Members. The designs are evaluated with score normalization to remove any biases and are voted on aspects such as functionality, ergonomics, engineering, presentation, innovation, usability, fun details, technology, and any other specific points that could be considered, each of these points are further weighted for different jury groups.
About A' Design Award and Competitions
A' Design Award and Competitions, aims to highlight the excellent qualifications of best designs, design concepts and design oriented products. A' Design Award and Competitions are organized and awarded annually and internationally in multiple categories to reach a wide, design-oriented audience. Learn more: http://www.whatisadesignaward.com